8-channel Analog Input with High Voltage Protection and 4-channel Isolated Digital Output Module

● PoE and Regular Ethernet Options
● Built-In Web Server
● Web HMI
● Modbus/TCP, Modbus/UDP Protocol
● Communication Security
● Dual Watchdog
● Operating Temperature: -25 °C ~ +75 °C
● I/O Pair Connection
● Built-In I/O (AI: 8 Channels, DO: 4 Channels)


The ET-7000/PET-7000, a web-based Ethernet I/O module, features a built-in web server which allows configuration, I/O monitoring and I/O control by simply using a regular web browser. Remote control is as easy as surfing the Internet.

Besides, with the web HMI function, no more programming or HTML skills are required; creating dynamic and attractive web pages for I/O monitoring and I/O control would be fun to engineers ever after. The ET-7000/PET-7000 offers easy and safe access for users from anytime and anywhere! In addition, the ET-7000/PET-7000 also supports Modbus/TCP protocol that makes perfect integration to SCADA software.

Furthermore, PET-7000 features "PoE" that not only data but also power is carried through an Ethernet cable. This feature makes installation of PET-7000 a piece of cake. Imagine that no more unnecessary wires, only an Ethernet cable takes care of everything in the field.
The ET-7017 is a 16-bit, 8-channel differential analog inputs and 4-channel digital ouputs module that provides programmable input range on all analog channels (±150 mV, ±500 mV, ±1 V, ±5 V, ±10 V, ±20 mA, 0~20 mA and 4~20 mA) and digital output can be set alarm output with short-circuit protection and overload protection. Each analog channel is allowed to configure an individual range and has 240 Vrms high overvoltage protection. Jumper selectable for voltage or current input.
The sampling rate of ET-7017 is changeable; there are fast mode and normal mode for your consideration. ET-7017 also has qualification for 4 kV ESD protection as well as 3000 VDC  intra-module isolation.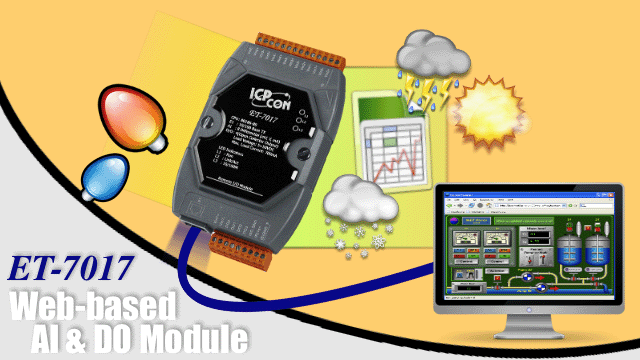 APPLICATIONS
● Building Automation
● Factory Automation
● Machine Automation
● Remote Maintenance
● Remote Diagnosis
● Testing Equipment
Software
| | |
| --- | --- |
| Built-In Web Server | Yes |
| Web HMI | Yes |
| I/O Pair Connection | Yes |
Communication
| | |
| --- | --- |
| Ethernet Port | 10/100 Base-TX with Auto MDI/MDI-X |
| Protocol | Modbus/TCP, Modbus/UDP |
| Security | ID, Password and IP Filter |
| Dual Watchdog | Yes, Module (0.8 second), Communication (Programmable) |
Analog Input
Input Channels
8 (Differential)
Input Type

±150 mV, ±500 mV, ±1V, ±5V, ±10V
±20 mA, 0 ~ 20 mA, 4 ~ 20 mA (jumper selectable)

Individual Channel Configuration
Yes
Resolution

| | |
| --- | --- |
| Normal Mode | 16-bit |
| Fast Mode | 12-bit |

Sampling Rate

| | |
| --- | --- |
| Normal Mode | 10 Samples/Sec. (Total) |
| Fast Mode | 60 Samples/Sec. (Total) |

Accuracy

| | |
| --- | --- |
| Normal Mode | ±0.1% |
| Fast Mode | ±0.5% or better |

Zero Drift
±20 μV/°C
Span Drift
±25 ppm/°C
Overvoltage Protection
240 Vrms
Input Impedance

| | |
| --- | --- |
| Voltage | 2 MΩ |
| Current | 125 Ω |

Common Mode Rejection
86 dB Min.
Normal Mode Rejection
100 dB
Digital Output
| | |
| --- | --- |
| Output Channels | 4 |
| Type | Isolated Open Collector (Sink) |
| Max. Load Current | 700 mA/Channel |
| Load Voltage | 5 VDC ~ 50 VDC |
| Overvoltage Protection | 60 VDC |
| Overload Protection | 1.4 A |
| Short-circuit Protection | Yes |
| Power On Value | Yes, Programmable |
| Safe Value | Yes, Programmable |
2-Way Isolation
| | |
| --- | --- |
| Ethernet | 1500 VDC |
| I/O | 2500 VDC |
EMS Protection
| | |
| --- | --- |
| ESD (IEC 61000-4-2) | 4 kV Contact for each terminal and 8 kV Air for random point |
| EFT (IEC 61000-4-4) | ±4 kV for Power |
LED Indicators
| | |
| --- | --- |
| L1 LED | System Running Indicator |
| L2 LED | Ethernet Link/Act Indicator |
| L3 LED | Ethernet 10/100 M Speed |
Power
| | |
| --- | --- |
| Reverse Polarity Protectionn | Yes |
| Powered from terminal block | Yes, 10 ~ 30 VDC |
| Powered from PoE | - |
| Consumption | 2.6 W |
Mechanical
| | |
| --- | --- |
| Dimensions (w x l x d) | 72 x 123 x 35mm |
| Installation | DIN-Rail or Wall mounting |
Omgeving
| | |
| --- | --- |
| Operating Temperature | -25 °C ~ +75 °C |
| Storage Temperature | -30 °C ~ +80 °C |
| Humidity | 10 ~ 90% RH, non-condensing |
U bent wellicht ook geïnteresseerd in de volgende producten: