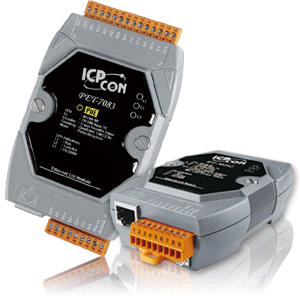 Ethernet I/O Modules
Providing networking ability and various digital I/O functions, the PETL-7000 and tET/tPET series are IP-based Ethernet I/O monitoring and control modules. The module can be remotely controlled through a 10/100 M Ethernet network by using Modbus TCP/UDP protocol. Modbus has become a de facto standard communications protocol in industry, and is now the most commonly available means of connecting industrial electronic devices. This makes the PETL-7000/tET/tPET series perfect integration with the HMI, SCADA, PLC and other software systems.

The functionality of the PETL-7000/tET/tPET series modules is almost the same as the PET-7000 series. The PETL-7000/tET/tPET series Ethernet I/O modules support various I/O types, like photo-isolated digital input, relay contact, PhotoMOS relay, and open-collector output. The module can be used to create DI to DO pair-connect through the Ethernet. Once the configuration is completed, the modules can poll the status of the local DI channels and then use the Modbus/TCP protocol to continuously write to a remote DO device in the background. It's useful when connecting digital I/O devices that do not themselves have Ethernet capability.