2-channel CAN Bus Isolated Bridge
● Microprocessor inside with 72MHz
● 82C250 CAN transceiver
● 2500 VRMS photo coupler isolation on the CAN side
● 3KV galvanic isolation among the power supply and 2 CAN channels
● Support both CAN 2.0A and CAN 2.0B
● Fully compatible with the ISO 11898-2 standard
● Adjustable CAN bus baud rate from 5Kbps to 1Mbps or programmable user-defined baud rate
● Support CAN bus message acceptance filter configuration
● Build-in jumper to select 120Ω terminal resistor
● Watchdog inside
I-7532 is a local CAN bridge used to establish a connection between two CAN bus system in a CAN network.
The I-7532 stands by itself connecting adjacent wiring segments together as in the case of a CAN repeater. Not just like I-7531, I-7532 have three more important features. First one, the transmission distance limitation of the CAN bus system on each side of I-7532 are independent, which means the total network distance can be extended.
Second one, when the CAN bus system on one side of I-7532 happpens some error (e.g. bit error), the system on other side can still work on correctly.
Last one, the baud of two channel on I-7532 can be different for highly flexibility.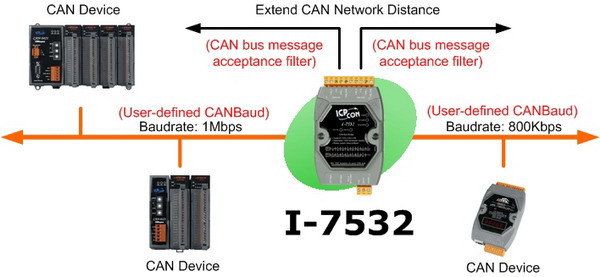 APPLICATIONS:
● Control System
● Building Automation
● Factory Automation
● Distributed Data Acquisition


CAN Interface
| | |
| --- | --- |
| Controller | Microprocessor inside with 72MHz |
| Transceiver | NXP 82C250 |
| Channel Number | 2 |
| Connector | 4-pin screwed terminal block (CAN_GND, CAN_L, CAN_SHLD, CAN_H) |
| Baud Rate | Adjustable CAN bus baud rate from 5Kbps to 1Mbps or programmable user-defined baud rate |
| Isolation | 3000V DC for DC-to-DC, 2500 Vrms for photo-couple |
| Terminator Resistor | Jumper for 120Ω terminator resistor |
| Specification | ISO-11898-2, CAN 2.0A and CAN 2.0B |
Power
| | |
| --- | --- |
| Power Supply | Unregulated +10 ~ +30V DC |
| Protection | Power reverse polarity protection, Overvoltage brownout protection |
| Power Consumption | 2W |
Mechanical
| | |
| --- | --- |
| Installation | DIN-Rail Mounting |
| Dimensions (w x l x h) | 72 x 33 x 122mm |
Omgeving
| | |
| --- | --- |
| Operating Temperature | -25 °C ~ +75 °C |
| Storage Temperature | -40 °C ~ +80 °C |
| Humidity | 5 ~ 95% RH, non-condensing |
U bent wellicht ook geïnteresseerd in de volgende producten: