8-channel thermistor input and 8-channel digital output module

● Support Thermistor Input
● Individual Channel Configuration
● 8-channel Digital Outputs for Alarm Output
● Open Wire Detection
● 3000 VDC Intra-module Isolation
● Operating Temperature Range: -25 °C ~ +75 °C


ICPDAS Analog Input Module I-87005W is used for measuring temperature by the thermistor. It supports many kinds of thermistors and features individual channel configuration which means that eight of its input channels can individually be configured with different kind of thermistor. Besides, I-87005W-G also has 8-channel digital outputs for alarm output, if necessary. Adding 3000 VDC intra-module isolation on I-87005W-G makes itself running with higher reliability.


With different communication interface, the I/O modules can be classified to high communication speed (Parallel bus) 8K series modules and low communication speed (serial interface) 87K series modules.
There are two types of I/O modules, Parallel and Serial. The parallel modules (I-8 Series) are high-speed modules and support MCU (Main Control Unit) only.
Item
I-87K Series
Communication Interface
Serial Bus
Protocol
DCON
Communication Speed
Slow
DI with Latched Function
Y
DI with Counter Input
Y (100 Hz)
Power On Value
Y
Safe Value
Y
Programmable Slew-rate for AO Module
Y
High Profile VS Low Profile
With different form factor, I/O modules can be classified to high profile and low profile. Basically, high profile and low profile modules that with same item number also have same I/O channel number.
For example: I-8054 and I-8054W both has 8 DI and 8 DO.
Except I/O channel number, other specifications could be different. You have to double check whether the specifications suit your application.
For example: For I-8054W, its DI logic high level is +10 ~ +50V. But for I-8054, it is +3.5 ~ +30V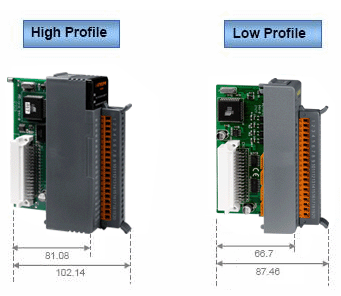 I-87K Series
High Profile
Low Profile
XPAC
Y
-
WinPAC
Y
-
LinPAC
Y
-
iPAC
Y
-
ViewPAC
Y
-
RU-87P1/2/4/8
Y
-
USB-87P1/2/4/8
Y
-
WinCon
Y
Y
LinCon
Y
Y
I-8000
Y
Y
I-8KE4/8
Y
Y
I-8KE4/8-MTCP
Y
Y
I-87K4/5/8/9
Y
Y
APPLICATIONS
● Temperature Measuring
● Environment Monitoring
● Tunnel Monitoring
● Building Monitoring
Thermistor Input
| | |
| --- | --- |
| Input Channels | 8 (2-wire) |
| Input Type | Precon ST-A3, Fenwell U, YSI L100, YSI L300, YSI L1000, YSI B2252, YSI B3000, YSI B5000, YSI B6000, YSI B10000, YSI H10000, YSI H30000, User-defined |
| Resolution | 16-bit |
| Sampling Rate | 8 samples/sec. (Total) |
| Accuracy | ±0.1% of FSR |
| Zero Drift | ±0.5 μV/°C |
| Span Drift | ±25 μV/°C |
| Common Mode Rejection | 113 dB |
| Normal Mode Rejection | 100 dB |
| Overvoltage Protection | 120 VDC/110 VAC |
| Input Impedance | >1 MΩ |
| Individual Channel Configurable | Yes |
| Open Wire Detection | Yes |
| Intra-module Isolation, Field to Logic | 3000 VDC |
Digital Output
| | |
| --- | --- |
| Output Channels | 8 |
| Output Type | Isolated Open-Collector |
| Maximum Load Current | 700 mA/channel |
| Load Voltage | 5 ~ 50 VDC |
LED Indicators
| | |
| --- | --- |
| 1 LED | Power/Communication Indicator |
Power
| | |
| --- | --- |
| Power Consumption | 1.6 W max. |
Omgeving
| | |
| --- | --- |
| Operating Temperature | -25 °C ~ +75 °C |
| Storage Temperature | -30 °C ~ +75 °C |
| Humidity | 5 ~ 95% RH, non-condensing |
U bent wellicht ook geïnteresseerd in de volgende producten: