PROFIBUS to RS-232/422/485 Converter

● Protocol & Hierarchy: DP-V0 Slave
● Detect transmission rate (9.6 ~ 12000 kbps) automatically
● Max length of in/output data is 128 Bytes
● Address 0 ~ 126 set by DIP switch or EEPROM
● Support several kinds of baud rate for COM1 from 1.2 ~ 115.2 kbps
● Built-in self-tuner ASIC controller on RS-422/485 port
● Network Isolation Protection: High Speed iCoupler
● 3000 VDC isolation protection on PROFIBUS side
● 4 kV ESD Protection
● DIN-Rail Mountable


The I-7550 converter is specially designed for the slave device of PROFIBUS DP protocol. It offers RS-232, RS-422, and RS-485 three kinds of communication way.
With the Hybrid COM 1 design, users can readily choose one type of com port to use. By using this module, users can put their RS-232/422/485 devices into PROFIBUS network very easily.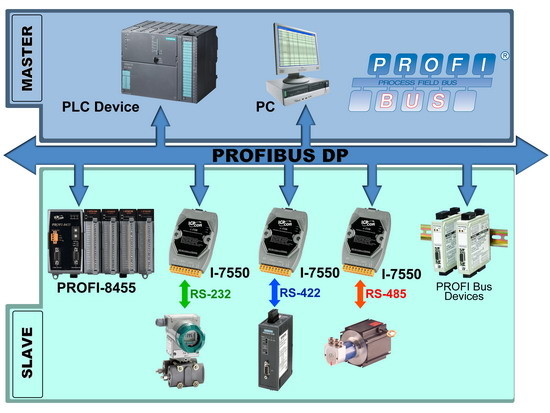 APPLICATIONS:
● Industrial Automation
● Factory Automation
● Process Automation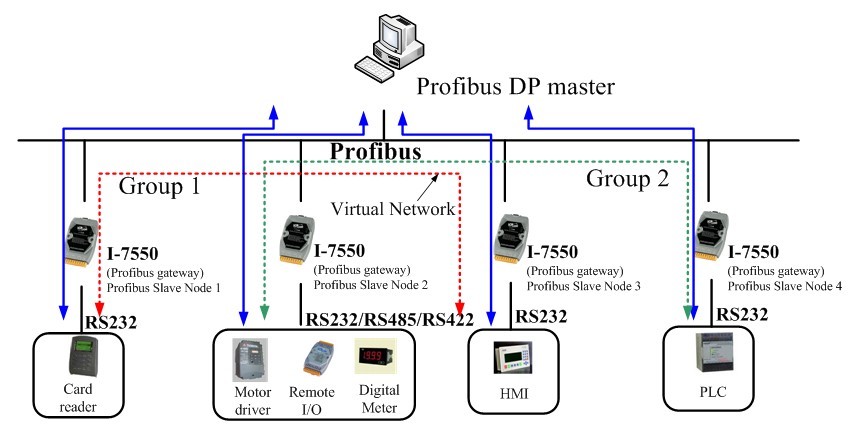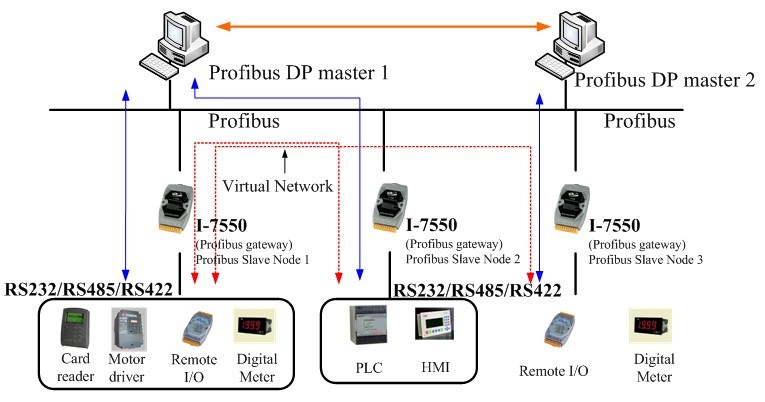 Hardware
| | |
| --- | --- |
| CPU | 80186, 80 MHz or compatible |
| SRAM/Flash/EEPROM | 512 KB / 512 KB / 16 KB |
| Watchdog | |
| ESD Protection | 4 kV class A |
PROFIBUS Interface
| | |
| --- | --- |
| Controller | Siemens SPC3 |
| Transceiver | ADI ADM2486 |
| Connector | 9-pin female D-Sub |
| Baud Rate (bps) | 9.6 k, 19.2 k, 45.45 k, 93.75 k, 187.5 k, 500 k, 1.5 M, 3 M, 6 M, 12 M |
| Transmission Distance | Depend on baud rate (for example, max. 1200 m at 9.6 kbps) |
| Isolation | 3000 VDC for DC-to-DC, 2500Vrms for bus-to-logic |
| Protocol | DP-V0 |
UART Interface
COM
RS-232/RS-422/RS-485(can't be used simultaneously)
COM Connector

3-pin screwed terminal block (RxD, TxD, GND)
4-pin screwed terminal block (RxD+, RxD-, TxD+, TxD-)
2-pin screwed terminal block (DATA+, DATA-)

Baud Rate (bps)
1200, 2400, 4800, 9600, 19200, 38400, 57600, 115200
Data bit
7, 8
Stop bit
1
Parity
None, Even, Odd
LED Indicators
| | |
| --- | --- |
| Round LED | PWR LED, RUN LED, ERR LED |
Power
| | |
| --- | --- |
| Power supply | Unregulated +10 ~ +30 VDC |
| Protection | Power reverse polarity protection, Overvoltage brownout protection |
| Power Consumption | 2.5 W |
Mechanical
| | |
| --- | --- |
| Dimensions (w x l x h) | 72 x 33 x 119mm |
| Installation | DIN-Rail Mounting |
Omgeving
| | |
| --- | --- |
| Operating Temperature | -25 °C ~ +75 °C |
| Storage Temperature | -30 °C ~ +85 °C |
| Humidity | 5 ~ 95% RH, non-condensing |
U bent wellicht ook geïnteresseerd in de volgende producten: