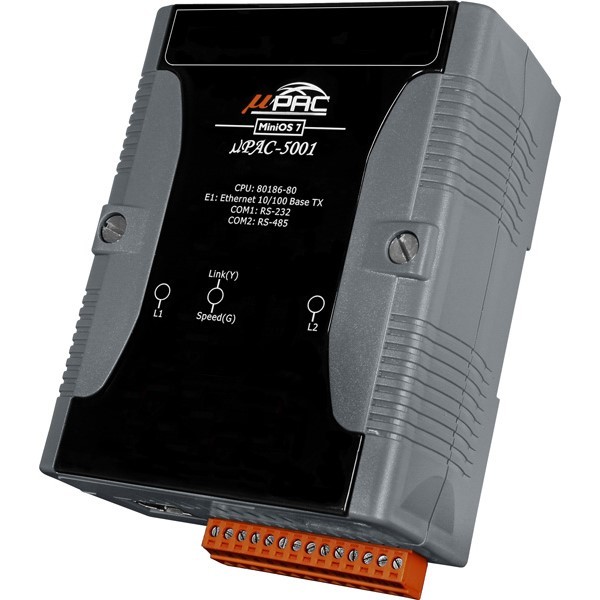 The μPAC-5000 series has many advantages, including hard real-time capability, small core size, fast boot speed, interrupt handling at a deeper level, achievable deterministic control and low cost. Using MiniOS7 gives it the ability to lanuch programs that developed by Turbo C, Borland C or ISaGRAF (PLC programming). It give users all of the best features of both traditional PLCs and PCs.

For hardware expansion, it also supports an I/O expansion bus. The I/O expansion bus can be used to implement various I/O functions such as D/I, D/O,A/ D, D/A, Timer/Counter, UART, and other I/O functions. Nearly all kinds of I/O functions can be implemented by this bus. But the bus can support only one board. There are more than 10 boards available for μPAC-5000 series, users can choose one of them to expand hardware features.

So the μPAC-5000 Series is equipped a 80186 CPU running a MiniOS7 operating system, various connectivity (Ethernet, RS-232/485) and an I/O expansion bus.

The μPAC-5000 series is an enhanced version of μPAC-7186. Owing to the bigger and special form factor design, the μPAC-5000 can add an internal wireless module, such as 2G, 3G, ZigBee, Wi-Fi, GPS for different wireless application. The optional I/O expansion board, XW-board, is two times larger than the X-board of μPAC-7186 and provides high-protection I/O. With built-in micro SD, the μPAC-5000 can be used as a data logger.
ICPDAS C Language Based μPAC-5000 SERIES

● 80186, 80 MHz CPU
● MiniOS7 Inside
● C Language Programming
TCP/IP Library
Modbus Library
● Various Storage Media
512 KB Flash
16 KB EEPROM
microSD
256 MB NAND Flash Disk
● Various Communication Interfaces
1x 10/100 Base-TX Ethernet port
1x RS-232/485 port
64-bit Hardware Serial Number
● I/O Expansion Bus for xw boards
● Redundant Power Inputs
● Operating Temperature: -25 ~ +75°C




ICPDAS ISaGRAF Based μPAC-5000 series

● 80186, 80 MHz CPU
● MiniOS7 Inside
● Embedded ISaGRAF Ver.3 SoftLogic (IEC 61131-3)
● Various Storage Media
512 KB Flash
16 KB EEPROM
512 KB Battery Backup SRAM
● Various Communication Interface Options
1x 10/100 Base-TX Ethernet
1x RS-232/485
GPS
2G (GPRS) / 3G (WCDMA)
● 64-bit Hardware Serial Number
● I/O Expansion Bus
● Redundant Power Inputs
● Operating Temperature: -25 ~ +75 °C