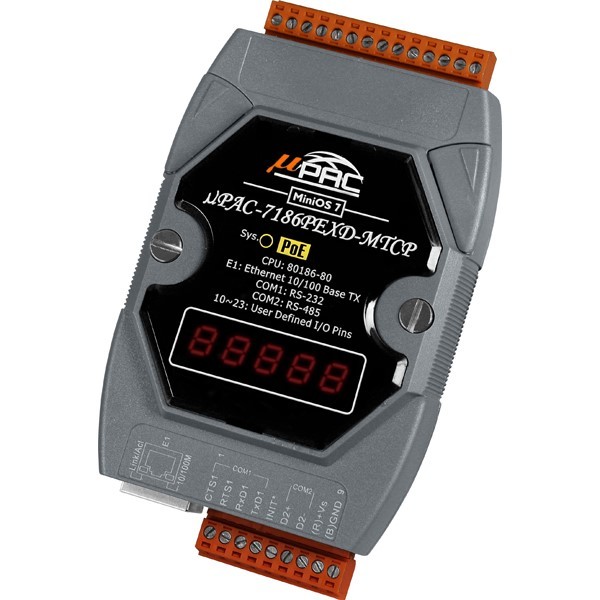 Hidden in narrow spaces, however, showing great capacity and existing in a wide range of applications, we are right talking about the I-7188 and μPAC-7186. These are the μPACs (micro Programmable Automation Controllers) designed and launched by ICP DAS. With fast-booting operating system MiniOS7, flexible COM port configuration and user-defined I/O pins, μPAC just meets every kind of requirement in general applications, such as data acquisition, automation systems, and remote control.

Both I-7188 and μPAC-7186 series are palm-sized PACs. μPAC-7186 series are the more advanced PACs with faster CPU, 10/100 Base-TX Ethernet and lower power consumption. Therefore, μPAC-7186 series are suitable for more sophisticated application. Integrated with MiniOS7 Studio, developed for C-language based controllers by ICP DAS, μPAC features IDE(integrated development environment), which makes programming much easier. Besides, with various expansion boards for μPACs, such as DI, DO, A/D, D/A, Timer/Counter, UART, flash memory, battery backup SRAM and other I/O functions, users can choose which functions they would like to combine, and then optimize the performance of their μPACs for different situations. And for those who are familiar with soft logic, ICP DAS also provides ISaGRAF-based μPACs and it makes the programming tasks as easy as PLCs'.

There are many different kinds of μPACs, and here's a quick guide for the add-on letters behind model numbers:

E represents that the μPAC has an Ethernet port.
G represents that the μPAC is ISaGRAF-based.
D represents that the μPAC has a 7-segment LED display.
FD represents that the μPAC has a built-in 64 MB Flash Disk.
SM represents that the μPAC has a built-in 640 KB SRAM.
Items 1-10 van 82
Pagina
U lees momenteel pagina

1