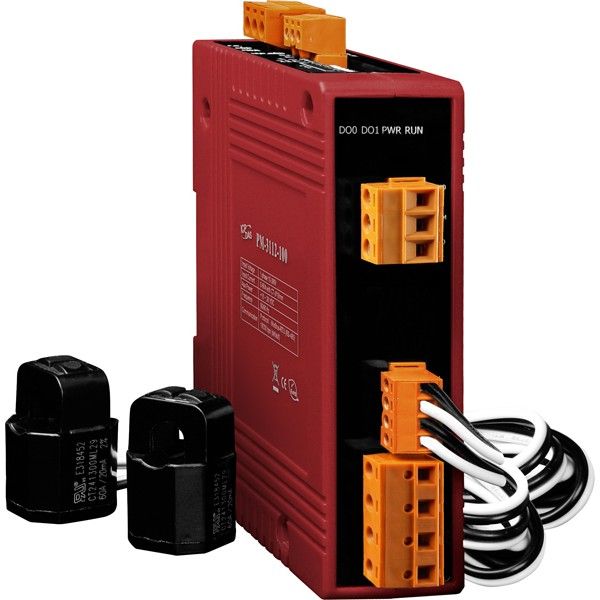 It's always difficult but crucial to the supervisors to figure out how much energy is consuming. ICP DAS brings the most powerful, cost effective, advanced Compact Power Meters, PM-213X series, to the markets.

With its high accuracy (1%, PF=1), the PM-213x series products can be applied both on low voltage primary side and/or medium/high voltage secondary side and enable the users to obtain in real time the reliable and accurate energy consumption readings from the monitored equipments while in operation. These compact size and cost effective Power Meters are equipped with revolutionary wired clip-on CT (various types support input current up to 200A) and standard Modbus communication RS-485 protocol for easy deployment. It works with input voltages ranging 10V ~ 500V, supporting a wide range of applications.

ICP DAS offers PM-213X family in a full range of Single-phase and Three-phase compact power meters for power monitoring. The products offer a rich feature set combined with easy-to-integrate communications.
ICPDAS PM-3114/3112

Modbus RTU, 4 loops single-phase power meter

● True RMS Power Measurements
● Energy Analysis for 1P2W, 1P4W
● Current Measurements Up to 200 A with Different CT Ratio
● Voltage Measurements Up to 300 V
● Clip-on CT for Easy Installation
● kWh Accuracy Better than 1% (PF=1)
● Supports RS-485, Ethernet or CAN bus/CANopen Interface
● Supports Modbus RTU, Modbus TCP or CAN Protocol
● Supports 2 Power Relay Output (Form A)
● Supports PoE (IEEE 802.3af, Class 1)

ICPDAS PMC-5151

Power Meter Concentrator

● No extra software tool is required, using browsers to perform system operations
● Support at most 24 ICP DAS Modbus Power Meters and 8 Modbus I/O modules
(COM2, COM3 and LAN interface can connect to Max. 16 power meters individually)
● Display real-time or historical power data (in data table or chart form)
● Provide power data statistics report (Daily and Monthly report)
● Data file auto send-back & recovery when network is resumed after disconnection
● Built-in IF-THEN-ELSE logic engine for thought-out power demand management
● Provide alarm message notification function via Email or SMS (for SMS message sending, GTM-203M-3GWA is required)
●Adjust device operations by its power status via Modbus I/O modules
● Provide Schedule function for operations of I/O modules (devices)
● Support Modbus TCP/RTU Slave protocol for seamless integration with SCADA
● Support Standard SNMP Protocol
● With PMC Data Server software, allow importing the power data into database