14-bit 100 K sampling rate 8/16-channel analog input module

● 14-bit 100 KHz AD Converter
● Internal or External Trigger


The ICPDAS Analog I/O Module I-8017HW is a high performance analog input module. Up to 16-channel single-ended or 8-channel differential inputs can be connected to one module.
It features 14-bit resolution, 100Ks/s sampling rates. It provides isolation protection of 2500 vrms.
With different communication interface, the I/O modules can be classified to high communication speed (Parallel bus) 8K series modules and low communication speed (serial interface) 87K series modules.
There are two types of I/O modules, Parallel and Serial. The parallel modules (I-8 Series) are high-speed modules and support MCU (Main Control Unit) only.
Item
I-87K Series
Communication Interface
Parallel Bus
Protocol
-
Communication Speed
Fast
DI with Latched Function
-
DI with Counter Input
-
Power On Value
-
Safe Value
-
Programmable Slew-rate for AO Module
-
High Profile VS Low Profile
With different form factor, I/O modules can be classified to high profile and low profile. Basically, high profile and low profile modules that with same item number also have same I/O channel number.
For example: I-8054 and I-8054W both has 8 DI and 8 DO.
Except I/O channel number, other specifications could be different. You have to double check whether the specifications suit your application.
For example: For I-8054W, its DI logic high level is +10 ~ +50V. But for I-8054, it is +3.5 ~ +30V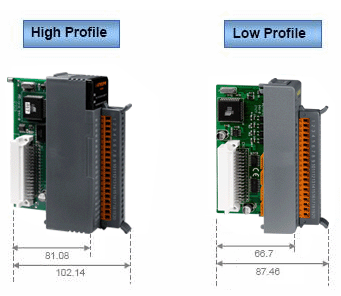 APPLICATIONS:
● High speed data acquisition systems
● Process monitor and control
● Vibration analysis
● Digital pattern generator from digital I/O port
Analog Input
Input Channels
16-channel Single-ended/8-channel Differential
Input Range

±10 V, ±5 V, ±2.5 V, ±1.25 V
-20 ~ +20 mA (Requires Optional External 125 Ω Resistor)

Resolution
14-bit
Sample Rate

Single Channel Polling Mode:100 Ksamples/sec.
Single Channel Interrupt Mode: 50 Ksamples/sec.
8-channel Scan Mode: 16 Ksamples/sec.

Accuracy
±0.1% of FSR
Input Impedance
20 K, 200 K, 20 M (Jumper Select)
Input Bandwidth
100 KHz
LED Indicators
| | |
| --- | --- |
| 1 LED | Power Indicator |
| 16 LED | Status Indicator |
Power
| | |
| --- | --- |
| Power Consumption | 2 W Max. |
Mechanical
| | |
| --- | --- |
| Dimensions (w x l x h) | 30 x 102 x 115 mm |
Omgeving
| | |
| --- | --- |
| Operating Temperature | -25 °C ~ +75 °C |
| Storage Temperature | -30 °C ~ +75 °C |
| Humidity | 5 ~ 95%, Non-condensing |
U bent wellicht ook geïnteresseerd in de volgende producten: