16-bit 250K sampling rate 8/16-channel analog input module

● 16-bit 250KHz ADC converter
● 16 single-ended/8 differential inputs (jumper selectable)
● 4K-samples FIFO buffer
● External trigger mode: post-trigger
● Input Range: ±10 V, ±5 V, ±2.5 V, ±1.25 V, ±20 mA
● Internal/external trigger start
● Magic Scan Type


The ICPDAS Analog I/O Module I-8014W is a high performance analog input module. Up to 16-channel single-ended or 8-channel differential inputs can be connected to one module. It features 16-bit resolution, 250Ks/s sampling rates, and 4K-sample FIFO. It provides isolation protection of 2500 Vrms.
The I-8014W contains an impressive scan function called Magic Scan, which is able to improve many of the functions and meets the demands of high-end users. The Magic Scan mechanism not only scans the different input channels at vastly different rates, but also at different gains. Even in a multi-channel scan, the sampling rates can be maintained at 250KS/s. The I-8014W contains two types of Magic Scan. One is a standard Scan and the other is a virtual Sample and hold function. Almost all AI Cards are expensive if they provide a sample and hold function, but ICP DAS can now provide you with a low-cost alternative.
The I-8014W provides 4K-sample onboard FIFO buffer for AD. The new FIFO technology uses a trigger interrupt signal. Meaning that if the sample count is higher than the pre-defined FIFO level, an interrupt signal will notify the host.
High accuracy, a high-speed sample rate, a high-level FIFO and all new Magic Scan technology are all included in the I-8014W,so It's time to upgrade your analog input module to the ICPDAS Analog I/O Module I-8014W.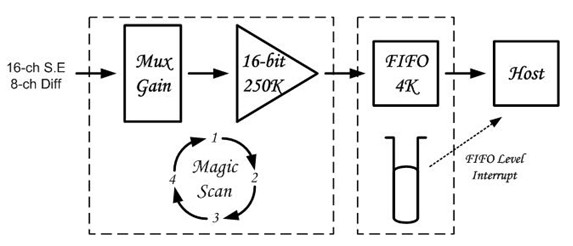 With different communication interface, the I/O modules can be classified to high communication speed (Parallel bus) 8K series modules and low communication speed (serial interface) 87K series modules.
There are two types of I/O modules, Parallel and Serial. The parallel modules (I-8 Series) are high-speed modules and support MCU (Main Control Unit) only.
Item
I-87K Series
Communication Interface
Parallel Bus
Protocol
-
Communication Speed
Fast
DI with Latched Function
-
DI with Counter Input
-
Power On Value
-
Safe Value
-
Programmable Slew-rate for AO Module
-
High Profile VS Low Profile
With different form factor, I/O modules can be classified to high profile and low profile. Basically, high profile and low profile modules that with same item number also have same I/O channel number.
For example: I-8054 and I-8054W both has 8 DI and 8 DO.
Except I/O channel number, other specifications could be different. You have to double check whether the specifications suit your application.
For example: For I-8054W, its DI logic high level is +10 ~ +50V. But for I-8054, it is +3.5 ~ +30V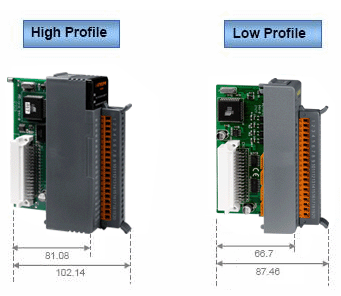 APPLICATIONS
● High speed data acquisition systems
● Vibration analysis
Analog Input
Input Channels

16-channel Single-ended
8-channel Differential

Input Range

±10 V, ±5 V, ±2.5 V, ±1.25 V
-20 mA ~ +20 mA (Requires Optional External 125Ω Resistor)

Resolution
16-bit
Sample Rate
Single Channel Polling Mode :250K S/s
FIFO
8 Kbytes
Accuracy
0.05% of FSR ±1LSB
Scan Mode
Polling , Pacer
Overvoltage protection
+60 V ~ -45 V
Input Impedance
20 K, 200 K, 20 M (Jumper Select)
Intra-module Isolation, Field to Logic
2500 Vrms
Power
| | |
| --- | --- |
| Power Consumption | 2.5 W Max. |
Mechanical
| | |
| --- | --- |
| Dimensions (w x l x h) | 30 x 102 x 115 mm |
Omgeving
| | |
| --- | --- |
| Operating Temperature | -25 °C ~ +75 °C |
| Storage Temperature | -30 °C ~ +85 °C |
| Humidity | 5 ~ 95% RH, Non-condensing |
U bent wellicht ook geïnteresseerd in de volgende producten: