Intelligent Remote Redundant Ethernet I/O expansion unit

● Support Modbus/TCP communication protocol at Ethernet port
● Support DI/DO/AI/AO/Counter/Frequency modules
● Support HART protocol
● Support redundant communication and power modules
● Supports redundant I/O modules
● I/O configurable via the Ethernet (Using the iDCS-8830 Utility)
● Supports Hot-swap and auto configuration
● Supports power on value and safe value for analog/digital output module
● Allows maximum of 4 clients access simultaneously
● Maximum 255 digital I/O in one iDCS-8830
● Maximum 64 analog output in one iDCS-8830
● Maximum 128 analog input in one iDCS-8830


The iDCS-8830 remote redundant IO unit is available in a dual redundant configuration with Modbus TCP protocol. This consists of two communication processors installed in the same backplane. In addition to the communication processors and powers, up to 8 IO modules can be installed in the backplane. These IO modules can be configured as individual IO modules or configured as redundant IO modules.
There is up to four groups of redundant I/O modules can be used in the iDCS-8830. When one of modules in the iDCS-8830 has a failure, the other backup module would take care of the work seamlessly. That can guarantee the reliability of the system. The iDCS-8830 offer redundancy options for various functions- ranging from power redundancy to I/O redundancy.
Besides, there are most of I/O modules, such as DI, DO, AI, AO, PI, PO, HART and etc, can be used in the iDCS-8830. Therefore, the iDCS-8830 is fit for the high safety applications especially in DCS applications. Moreover, due to the open Modbus TCP protocol, most SCADA software built-in Modbus communication protocol can easily and quickly integrate the iDCS-8830 to the SCADA software as data acquisition and monitor to apply to environment monitoring, power management, factory automation, etc. With the above features, the iDCS-8830 is a high safety, reliability remote I/O system.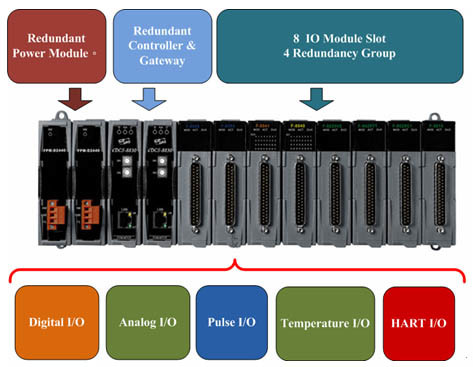 IDCS-8830 UTILITY:
● On-line configuration via Ethernet
● Configuration export/import
● Configure I/O modules parameters
● Auto scan/monitor I/O data and status
● Digital/Alanog I/O output control
● Power on value, safe value setting
● Event datalog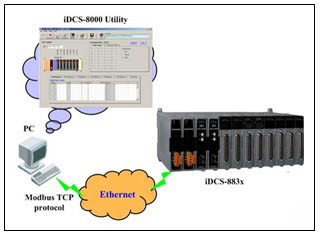 APPLICATIONS:
● PAC or PLC system with I/O Redundancy
● Redundancy system
CPU
CPU
80186 or compatible (16-bit and 80MHz)
SRAM
512KBytes
Flash
512 KB; Erase unit is one sector (64K bytes); 100,000 erase/write cycles.
EEPROM
16 KB
Data retention: 40 years; 1,000,000 erase/write cycles.
64-bit Hardware Serial Number
Yes
Built-in Watchdog Timer
Yes (0.8 second)
Communication Interface
COM1
RS-232 (to update firmware)
CAN Port
Internal communication with the CAN I/O modules
Ethernet Port
10/100Base-TX Ethernet Controller
(Auto-negotiating, Auto_MDIX, LED indicator)
I/O Expansion Slots
| | |
| --- | --- |
| Slot Number | 8 |
| Hot Swap | Yes |
| Auto Configuration | Yes |
Mechanical
| | |
| --- | --- |
| Dimensions (w x l x h) | 374 x 132 x 100mm |
| Installation | DIN-Rail or Wall Mounting |
Omgeving
| | |
| --- | --- |
| Operating Temperature | -25 °C ~ +75 °C |
| Storage Temperature | -30 °C ~ +80 °C |
| Humidity | 10~ 90%, Non-condensing |
Power
| | |
| --- | --- |
| Protection | Power reverse polarity protection |
| Isolation | 1 kV |
| Power Requirement | +10 ~ +30 VDC |
| Power Supply | 40 W |
Algemeen
Notes:
Redundant power function needs to order another FPM-D2440 module
Redundant Communication function needs to order another FCM-MTCP module
U bent wellicht ook geïnteresseerd in de volgende producten: