GPS Receiver Module with 2 DO and 1 PPS output, includs ANT-115-03

● Support PACs and Remote I/O expansion units of ICP DAS
● Support 32-channel GPS and NMEA v0183 v3.01(Baudrate 9600 bps)
● RS-232 supports NMEA v0183 v3.01 format or DCON protocol
● Built-in 2-channel DO, 1-channel PPS(1 pulse per second), 1 RS-232 port
● PPS: 100 ms pulse output/sec for precise timekeeping and time measurement
● With various system LED indicator
The ICPDAS GPS/GPRS Module I-87211W, a new GPS solution for GPS Receiver module of I-87K family in ICPDAS, featuring high sensitivity, low power consumption and ultra small form factor with DCON and GPS protocols. This powerful item provides you with superior sensitivity and outstanding performance even in the harshest environment. The I-87211W provides extra 2-channel DO and 1-channel PPS for users. PPS signals can be used for precise timekeeping and time measurement. One can combine the PPS functionality with another as time synchronization source.
Therefore, the ICPDAS GPS/GPRS Module I-87211W can be a powerful GPS module as well as a general purpose GPS module with RS232 interface in PACs and remote I/O expansion units. It can also be applied in automotive navigation, Personal positioning and navigation, Marine navigation, Satellite time correction and etc…
With different communication interface, the I/O modules can be classified to high communication speed (Parallel bus) 8K series modules and low communication speed (serial interface) 87K series modules.
There are two types of I/O modules, Parallel and Serial. The parallel modules (I-8 Series) are high-speed modules and support MCU (Main Control Unit) only.
Item
I-87K Series
Communication Interface
Serial Bus
Protocol
DCON
Communication Speed
Slow
DI with Latched Function
Y
DI with Counter Input
Y (100 Hz)
Power On Value
Y
Safe Value
Y
Programmable Slew-rate for AO Module
Y
High Profile VS Low Profile
With different form factor, I/O modules can be classified to high profile and low profile. Basically, high profile and low profile modules that with same item number also have same I/O channel number.
For example: I-8054 and I-8054W both has 8 DI and 8 DO.
Except I/O channel number, other specifications could be different. You have to double check whether the specifications suit your application.
For example: For I-8054W, its DI logic high level is +10 ~ +50V. But for I-8054, it is +3.5 ~ +30V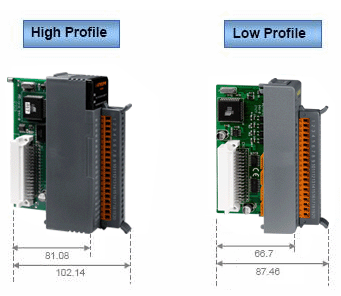 I-87K Series
High Profile
Low Profile
XPAC
Y
-
WinPAC
Y
-
LinPAC
Y
-
iPAC
Y
-
ViewPAC
Y
-
RU-87P1/2/4/8
Y
-
USB-87P1/2/4/8
Y
-
WinCon
Y
Y
LinCon
Y
Y
I-8000
Y
Y
I-8KE4/8
Y
Y
I-8KE4/8-MTCP
Y
Y
I-87K4/5/8/9
Y
Y
APPLICATIONS
● Satellite Time Correction
● Personal Positioning and Navigation
● Automotive Navigation
● Marine Navigation
Digital Output
| | |
| --- | --- |
| Output Channel | 2 (Sink) |
| Output Type | Non-isolated Open Collector |
| Output Current | 100 mA |
| Load Voltage | 5 VDC ~ 30 VDC |
GPS Receiver
Chip
MediaTek solution
Frequency
L1 1575.42 MHz, C/A code
Support Channel
32
Position Accuracy
Capable of SBAS (WAAS, EGNOS, MSAS)
Max. Altitude
<18,000 m
Max. Velocity
<515 m/s
Acquisition Time
Cold Start (Open Sky) = 42 s (typical)
Sensitivity

Tracking = Up to -158 dBm
Cold start = Up to -142 dBm

Protocol Support
NMEA 0183 v3.01
GPS Output
| | |
| --- | --- |
| 1 PPS | Pulse per second output (Default 100 ms pulse/sec.) |
| RS-232 Interface | GPS information output |
LED Indicators
| | |
| --- | --- |
| 1 LED | Power/Communication |
| 3 LEDs | Digital Output |
| 8 LEDs | GPS |
Power
| | |
| --- | --- |
| Power Consumption | 0.75 W (max.) |
Mechanical
| | |
| --- | --- |
| Dimensions (w x l x h) | 30 x 91 x 114 mm |
Omgeving
| | |
| --- | --- |
| Operating Temperature | -25 °C ~ +75 °C |
| Storage Temperature | -40 °C ~ +85 °C |
| Humidity | 5 ~ 95% RH, non-condensing |
U bent wellicht ook geïnteresseerd in de volgende producten: