CAN bus Remote I/O module with CANopen Protocol of 8-Channel PWM and 8-Channel High Speed Counter

● Hardware-controlled PWM output
● PWM output frequency: 0.2 Hz ~ 500 kHz with 0.1%~99.9% duty cycle
● PWM Output Modes: software trigger / hardware trigger
● Trigger each PWM output individually or all PWM outputs synchronously
● Support Burst output mode and Continue output mode
● Provide 32-bit 500 kHz high-speed counter for each DI channel
● Pass the validation of DeviceNet conformance test
● Provide EDS file for DeviceNet master interface


PWM (Pulse width modulation) is a powerful technique for controlling analog circuits. It uses digital outputs to generate a waveform with variant duty cycle and frequency to control analog circuits. CAN-2088D is a PWM slave module of DeviceNet protocol. It has 8 PWM output channels and 8 high speed counter channels. It can be used to develop powerful and cost effective analog control system.

APPLICATIONS:
● Controlling the position/speed of motors
● Dimming the brightness of lamps
● Controlling the speed of fans
● High speed counter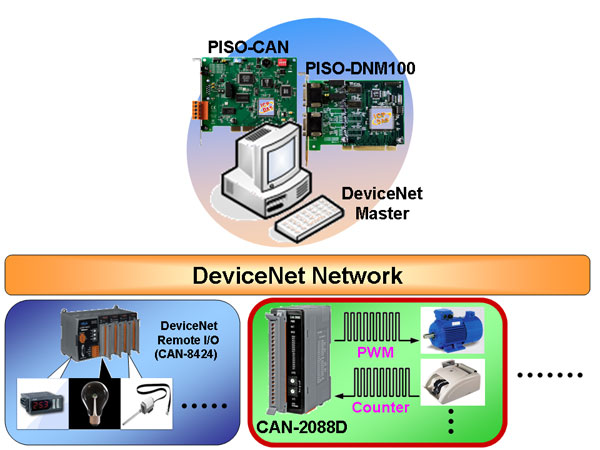 DeviceNet Interface
DeviceNet Specification
Volume I, Release 2.0 & Volume II, Release 2.0, Errata5
DeviceNet Subscribe
Group 2 Only Server
Connection Supported

1 connection for Explicit Messaging
1 connection for Polled I/O
1 connection for Bit-Strobe I/O

Baud Rate
125 kbps, 250 kbps, 500 kbps
Node ID
0 ~ 63
Heartbeat Message
Yes
Shutdown Message
Yes
Terminator Resistor
Switch for 120 Ω terminator resistor
Connector

5-pin screwed terminal block
(CAN_GND, CAN_L, CAN_SHLD, CAN_H, CAN_V+)

EDS File
Yes
PWM
| | |
| --- | --- |
| Channels | 8 (Source) |
| Frequency | 0.2 ~ 500 kHz (non-continuous) |
| Scaling Resolution | 16-bit (1 ~ 128 μs for each step) |
| Duty Cycle | 0.1 ~ 99.9 % |
| PWM Mode | Burst mode, Continuous mode |
| Burst Mode Counter | 1 ~ 65535 counts |
| Trigger Mode | Hardware (Start and Stop) or Software (Start and Stop) |
| Intra-module Isolation | 3750Vrms |
| ESD Protection | 4kV Contact for each channel |
Digital Input
| | |
| --- | --- |
| Channels | 8 (Sink/Source) |
| On Voltage Level | 5.5 ~ 30V |
| Off Voltage Level | <3.5V |
| Counter Frequency | 500 kHz max. |
| Max. Counts | 32-bits (4.294.967.295) |
| Input Impedance | 4.7 kΩ, 1/4W |
| Intra-module Isolation | 3750Vrms |
| ESD Protection | 4kV Contact for each channel |
LED Indicators
| | |
| --- | --- |
| DeviceNet Status | 3 LEDs for PWR/NET/MOD |
| Terminal Resister | 1 LED as Terminal Resister indicators |
| PWM LED | 8 LEDs as PWM Output indicators |
| DI LED | 8 LEDs as Digital Input indicators |
Power
| | |
| --- | --- |
| Power Supply | Unregulated 10 ~ 30V DC |
| Power Consumption | 2W |
Mechanical
| | |
| --- | --- |
| Installation | DIN-Rail |
| Dimensions (w x l x h) | 32.3 x 99.0 x 77.5mm |
Omgeving
| | |
| --- | --- |
| Operating Temperature | -25 °C ~ +75 °C |
| Storage Temperature | -30 °C ~ +80 °C |
| Humidity | 10 ~ 90% RH, non-condensing |
U bent wellicht ook geïnteresseerd in de volgende producten: