Profibus Remote I/O Unit with 4 Expansion Slots

● Support for PROFIBUS DP-V0 protocol
● Up to 12Mbps transmission rate
● Detection transmission rate automatically
● Supports I/O modules hot-swap (I-87K High Profile series)
● Support diagnosis report
● Support maximum 128 byte input/output data length individually
● Support maximum 39 channels of diagnosis
● Built-in host and module dual watchdog timer (WDT)


The PROFI-8455 Remote I/O Module is specially designed for the slave device of PROFIBUS DP protocol. It supports up to 4 slots for ICPDAS I-8k series, I-87k Low Profile series, and I-87k High Profiles series I/O modules. In addition, we also provide hot-swap function for I-87k High Profiles series I/O modules. To setup network, users can choose and configure I/O modules by using the GSD file without any other setting tools.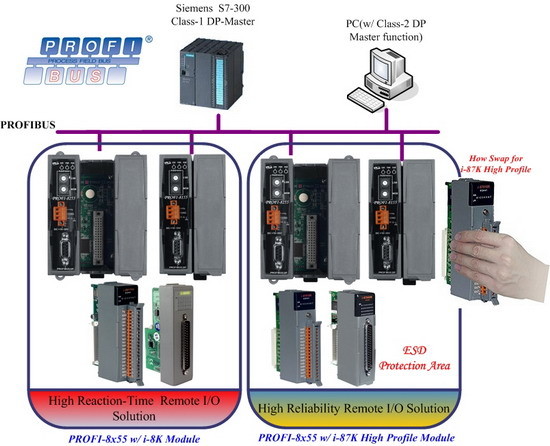 APPLICATIONS:
● Industrial Automation
● Factory Automation
● Process Automation


FLOW CHART: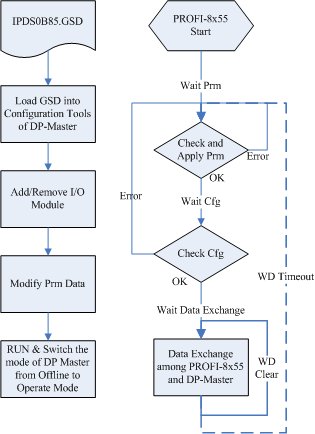 Hardware
| | |
| --- | --- |
| CPU | 80186, 80MHz or compatible |
| SRAM/Flash/EEPROM | 512 KB / 512 KB / 2 KB |
| Watchdog | |
| Expansion Slot | 4 slots |
| ESD Protection | 4kV class A |
PROFIBUS Interface
| | |
| --- | --- |
| Controller | Siemens SPC3 |
| Transceiver | ADI ADM2486 |
| Connector | 9-pin female D-Sub |
| Baud Rate | 9.6k, 19.2k, 45.45k, 93.75k, 187.5k, 500k, 1.5M, 3M, 6M, 12M |
| Transmission Distance | Depend on Baud Rate (for example, max. 1200m at 9.6kbps) |
| Isolation | 3000V DC for DC-to-DC, 2500 vrms for bus-to-logic |
| Protocol | DP-V0 |
UART Interface
| | |
| --- | --- |
| COM | RS-232 (For updating firmware) |
LED Indicators
| | |
| --- | --- |
| Round LED | PWR LED, RUN LED, ERR LED |
Power
| | |
| --- | --- |
| Power Supply | Unregulated +10 ~ +30 VDC |
| Protection | Power reverse polarity protection, Overvoltage brownout protection |
| Power Consumption | 5 W |
Mechanical
| | |
| --- | --- |
| Installation | DIN-Rail or Wall Mounting |
| Dimensions (w x l x h) | 188 x 91 x 132mm |
Omgeving
| | |
| --- | --- |
| Operating Temperature | -25 °C ~ +75 °C |
| Storage Temperature | -40 °C ~ +80 °C |
| Humidity | 5 ~ 95% RH, non-condensing |
U bent wellicht ook geïnteresseerd in de volgende producten: