ICPDAS I-87124 (I-87KDNM)
1 Port DeviceNet Master Slot Module

● 3 indication LEDs (Error,Status,Bus LEDs)
● 1 KVdc isolation on CAN side
● Programmable Master MAC ID
● Programmable transfer-rate 125 K, 250 K, 500 K
● Support maximum nodes up to 64
● Support Group 2 Only Server functions
● The maximum Fragment number is (Input/Output) up to 64
● Support I/O Operation Mode: Poll, Bit-Strobe and Change Of State/Cyclic
● Support Auto-scan slave device function
● Support on-line add device into and remove device from network


The CAN (Controller Area Network) is a serial communication protocol, and efficiently supports distributed real-time control with a very high level of security. It is an especially suit for networking "intelligent" devices as well as sensors and actuators within a system or sub-system. In CAN network, there is no addressing of subscribers or stations in the conventional sense, but instead prioritized messages are transmitted.
As standalone CAN controller, ICPDAS CAN BUS Module I-87124(I-87KDNM) can represent an economic solution of DeviceNet application and be a DeviceNet master device in the CAN bus on the DeviceNet network. It is a "Predefined Master connection Set", and supports Group 2 only Server functions to communication with slave devices. It has a independent CAN bus communication port with 5-pin screw terminal connector, and has the ability to cover a wide range of DeviceNet applications.
Besides, ICPDAS CAN BUS Module I-87124 (I-87KDNM) uses the new CAN controller Phillips SJA1000T and transceiver 82C250/251, which provide bus arbitration, error detection with auto correction and re-transmission function. It can be installed in WinPAC or ViewPAC series PAC.It is popularly applied in the industrial automation, building automation,vehicle, marine, and embedded control network. In order to expand the DeviceNet functions of ICPDAS products,ICPDAS CAN BUS Module I-87124 (I-87KDNM) is developed for this purpose.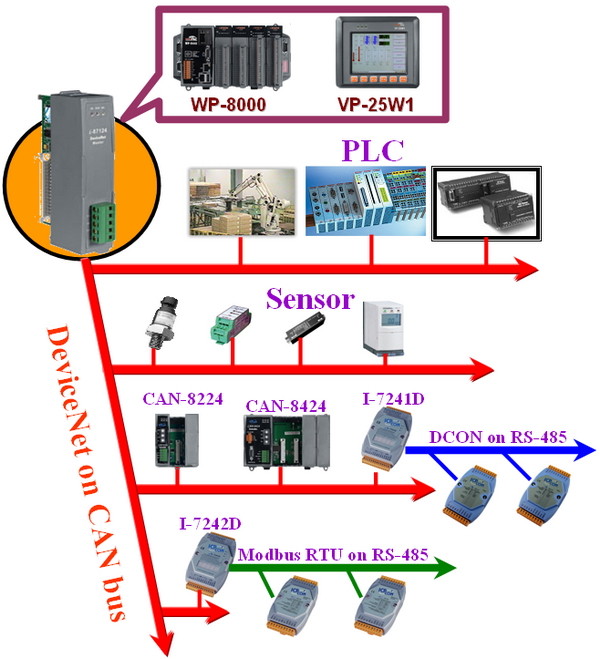 APPLICATIONS

● CAN bus communication application
● Industry automation
● Industrial Machinery
● Building Automation
● Food & Beverage
● Semiconductor Fabrication
● Control system

ARCHITECTURE: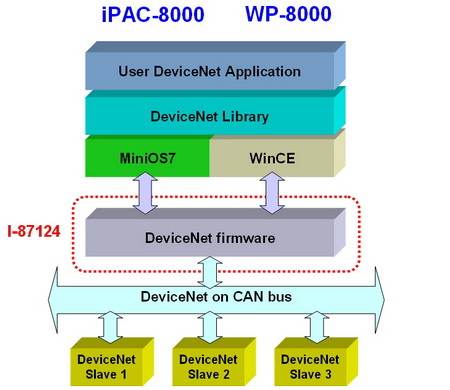 SOFTWARE UTILITY FEATURES
Diagnosis
This utility supports to search all devices and specific devices in the network. These functions help the users to configure the connection of the slave devices. Anymore, the software also can diagnose the remote slave devices when building the DeviceNet network.
Configuration
This software supports the users to configure the I/O connection of the devices by searching devices or manual setting. After configuring the I/O connection, the information would be saved into the EEPROM of the PISO-DNM100. The users can export the data from the EEPROM easily. Correspondingly, the users can import the data into the EEPROM.
Remote I/O Access
The software utility can easily to access the I/O data of all the slave devices. The users can monitor the input data of the specific slave device and change the output data to the remote slave device with this utility.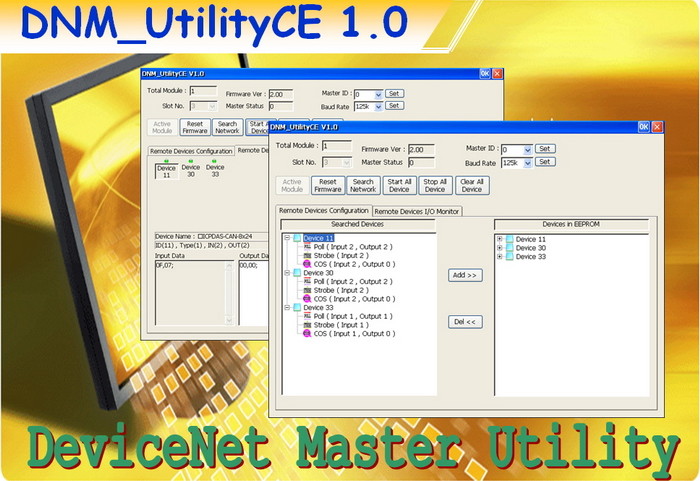 Art.nr.
I-87124 (I-87KDNM)
Hardware
| | |
| --- | --- |
| CPU | 80186, 80 MHz or compatible |
| SRAM/Flash/EEPROM | 512 KB / 512 KB / 16 KB |
| Watchdog | CPU built-in |
CAN Interface
Controller

NXP SJA1000T with 16 MHz clock
Microprocessor inside with 20 MHz

Transceiver
NXP 82C250
Channel Number
1
Connector
5-pin screwed terminal block (CAN_L, CAN_SHLD, CAN_H, N/A for others)
Baud Rate
125 kbps, 250 kbps, 500 kbps
Transmission Distance
Depend on baud rate (for example, max. 1000 m at 50 kbps )
Isolation
3000 VDC for DC-to-DC, 2500 Vrms for photo-couple
Terminator Resistor
Switch for 120 Ω terminator resistor
Specification
ISO-11898-2, CAN 2.0A and CAN 2.0B
Protocol
DeviceNet Volumn I v2.0, Volumn II v2.0
LED Indicators
| | |
| --- | --- |
| Round LED | NS LED, RUN LED, MS LED |
Software
| | |
| --- | --- |
| Driver | Windows CE |
| Library | VB.Net 2005, C#.Net 2005, eVC++ 4.0 |
Mechanical
| | |
| --- | --- |
| Dimensions (w x l x h) | 31 x 115 x 91 mm |
Omgeving
| | |
| --- | --- |
| Operating Temperature | -25 °C ~ 75 °C |
| Storage Temperature | -40 °C ~ 80 °C |
| Humidity | 5 ~ 95% RH, non-condensing |
U bent wellicht ook geïnteresseerd in de volgende producten: