ICPDAS I-87123 (I-87KCPM)
1 Port CANopen Master Slot Module

● One CAN port expansion for I-8000 series MCU (main control unit), WinCon-8000, WinPAC-8000, and LinPAC-8000
● Baud :10Kbps, 20Kbps, 50Kbps, 125Kbps, 250Kbps, 500Kbps, 800Kbps, 1Mbps.
● Support upload and download SDO Segment
● Support Node Guarding protocol
● Support all transmission types and SYNC message
● Provide C/C++ function libraries to control CANopen messages.
● Demos are provided
● 256 records CANopen message receive buffer size
● 2500 Vrms isolation
● 3 indication LEDs (Pow, Rx/Tx and Err LEDs


CANopen, a kind of communication protocols, is based on the intelligent field bus(CAN bus). It was developed as a standardized embedded network with highly flexible configuration capabilities. It provides standardized communication objects for real-time data (Process Data Objects, PDO), configuration data(Service Data Objects, SDO), network management data(NMT message, and Error Control), and special functions (Time Stamp, Sync message, and Emergency message). Nowadays, CANopen is used in many various application fields, such as medical equipment, off-road vehicles, maritime electronics, public transportation, building automation and etc.
ICPDAS CAN Bus Module I-87123 (I-87KCPM) is specially designed for the master device of CANopen protocol. It supplies many features for users, such as dynamic PDO, EMCY object, error output value, SYNC object, …and etc.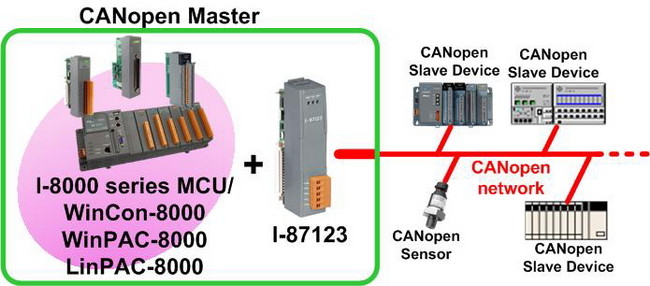 APPLICATIONS:
● Industrial Machinery
● Laboratory Equipment & Research
● Restaurant Appliances
● Maritime
● Medical
● Specialty Vehicles
ARCHITECTURE: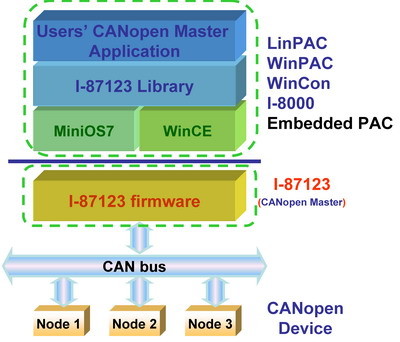 Art.nr.
I-87123 (I-87KCPM)
Hardware
| | |
| --- | --- |
| CPU | 80186, 80 MHz or compatible |
| SRAM/Flash/EEPROM | 512 KB / 512 KB / 2 KB |
CAN Interface
| | |
| --- | --- |
| Controller | NXP SJA1000T with 16 MHz clock |
| Transceiver | NXP 82C250 |
| Channel number | 1 |
| Connector | 5-pin screwed terminal block (CAN_GND, CAN_L, CAN_SHLD, CAN_H, N/A) |
| Baud Rate (bps) | 10 k, 20 k, 50 k, 125 k, 250 k, 500 k, 800 k, 1 M (allow user-defined baud rate) |
| Transmission Distance | Depend on baud rate (for example, max. 1000 m at 50 kbps) |
| Isolation | 1000 VDC for DC-to-DC, 2500 Vrms for photo-couple |
| Terminator Resistor | Jumper for 120 Ω terminator resistor |
| Specification | ISO 11898-2, CAN 2.0A and CAN 2.0B |
| Protocol | CANopen DS-301 v4.02, DS-401 v2.1 |
LED Indicators
| | |
| --- | --- |
| Round LED | PWR LED, RUN LED, ERR LED |
Software
| | |
| --- | --- |
| Driver | WinPAC, LinPAC, iPAC |
| Library | TC/BC |
Power
| | |
| --- | --- |
| Power Supply | Unregulated +10 VDC ~ +30 VDC |
Mechanical
| | |
| --- | --- |
| Dimensions (w x l x h) | 31 x 115 x 91 mm |
Omgeving
| | |
| --- | --- |
| Operating Temperature | -25 °C ~ +75 °C |
| Storage Temperature | -30 °C ~ +80 °C |
| Humidity | 5 ~ 95% RH, non-condensing |
U bent wellicht ook geïnteresseerd in de volgende producten: