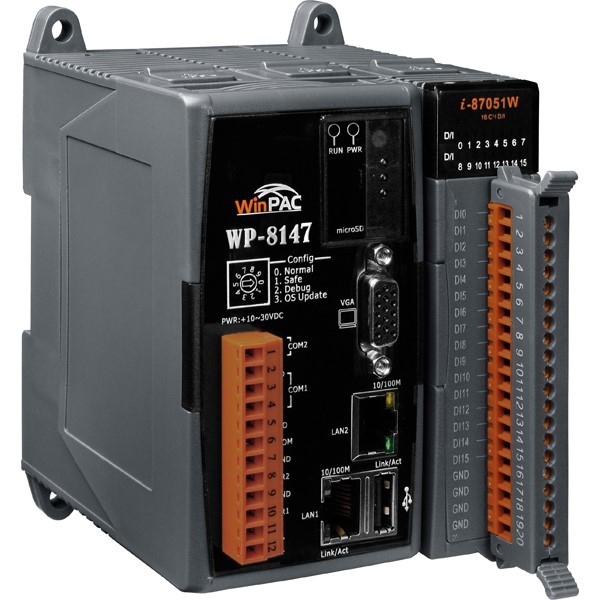 WinPAC-8000 is the second generation PAC of ICP DAS. It equips a PXA270 CPU (520MHz) running a Windows CE.NET 5.0 operating system, variant connectivities (VGA, USB, Ethernet, RS-232/485) and 1/4/8 slots for high performance parallel I/O modules (high profile I-8K series) and serial-type I/O modules (high profile I-87K I/O modules).

Its operating system,Windows CE 5.0, has many advantages, including hard real-time capability, small core size, fast boot speed, interrupt handling at a deeper level, achievable deterministic control and low cost. Using Windows CE.Net 5.0 in the WinPAC-8000 gives it the ability to run PC-based Control software such as Visual Basic.NET, Visual C#, Embedded Visual C++, SCADA software, Soft PLC …etc.

Compared to the first generation WinCon-8000, it not only improves the CPU performance (from 206 MHz to 520 MHz) and upgrading OS (from CE 4.1 to CE 5.0), but also adds many reliability features, such as dual LAN, redundant power input, dual battery backup SRAM, etc. It gives you all of the best features of both traditional PLCs and Windows capable PCs.