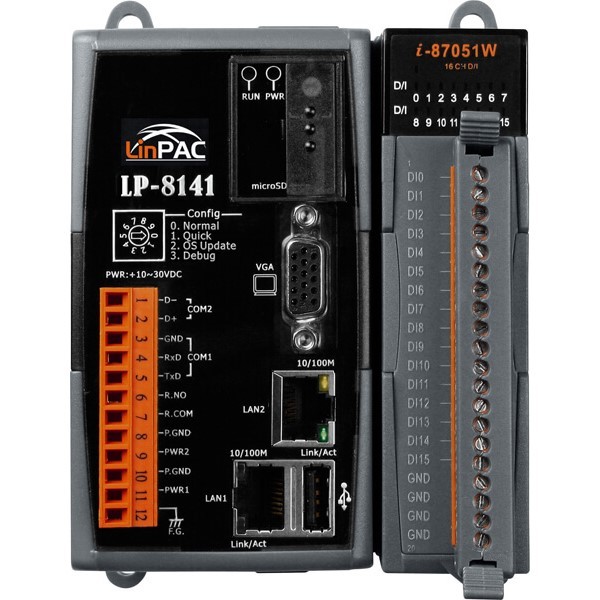 The LinPAC-5000 is the latest generation Linux-based PAC from ICP DAS. It's an embedded system controller which is dedicated to industrial control.

The LinPAC-5000 family is a palm-size PAC (Programmable Automation Controller) and is designed to provide fast, convenient, flexible and simplified solutions for industrial and embedded applications. It is equipped with a PXA270 CPU (520 MHz) running a Linux kernel 2.6.19 operating system, multiple communication interfaces (VGA, USB, Ethernet, RS-232/485 and audio ports) and powerful software including development tools.

The LinPAC-5000 provides the ability to add an I/O expansion bus allowing users implement various I/O functions such as D/I, D/O, A/D, D/A, Timer/Counter, and various communication interfaces (RS-232/422/485), etc. Customers can choose functions which they would like to combine, and then optimize the performance of the LinPAC-5000 for every different situation.

Nowadays, Linux has been adopted widely by many users because of the properties of stability, open source, and free of charge. In the mean while, owing to the great supports from more and more companies and the mature development, Linux is now becoming one of the most popular OS on the market. Furthermore the hardware requirements of Linux OS in embedded system is not high, just only 386 CPU or better and 8 MB RAM. Therefore, besides Win CE of Microsoft, Linux has been already become another good choice in embedded OS.

The LinPAC-8000 is a second generation Linux-based PAC from ICP DAS and is equipped with a powerful CPU module running a Linux kernel 2.6 operating system, various communication interfaces (VGA, USB, Ethernet and RS-232/485) and slots for both high performance parallel bus type (high profile I-8K series) and serial bus type (high profile I-87K series) I/O modules.

Compared with the first generation LinCon-8000, not only is the CPU performance improved have been added (from 206 MHz to 520 or 500 MHz) and upgraded OS from Linux kernel 2.4 to Linux kernel 2.6, but many reliability features, such as dual LAN, redundant power input, and dual battery backup SRAM, etc., making the LinPAC-8000 one of the most powerful systems available.