Getac B360 Pro - Full Rugged Laptop
● Getac QuadraClear™ Sunlight Readable Technology
- 1400 Nits Full HD Display
- includes Capacitive Type Multi-touch
- supports Rain/Glove and Pen Modes
● Intel® 10th gen. Core™ i5 / i7 Processor
● up to 64 GB memory
● PCIe SSD up to 1 TB
● optional 2nd SSD storage
● optional nVidia GTX-1050 Discrete Graphics
● optional Built-in dedicated GPS
●optional Integrated 4G / LTE plus GPS
● Windows 10 Professional
● MIL-STD-810H and IP66 certified
● -29°C to 63°C Temperature Operating


| | |
| --- | --- |
| GETAC B360 PRO | |
Military-grade and mission-ready, the B360 Pro fully rugged laptop is packed with power and performance you can trust.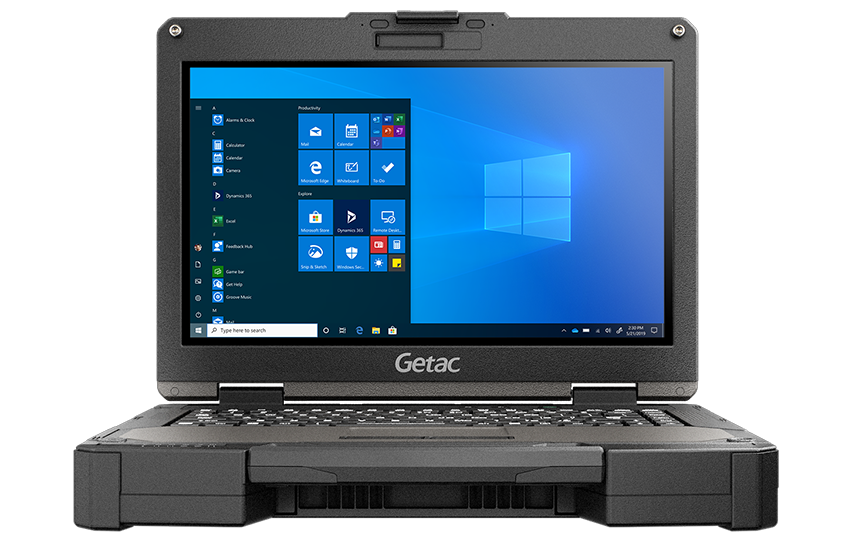 TOUGH, ROBUST AND READY FOR ACTION.
Designed for Defense, the B360 Pro fully rugged laptop was purpose-built to operate in challenging tactical environments. This powerful Notebook delivers lightning-fast response through 10th Generation Intel® Core™ processor and Intel® UHD graphics. Your environment is physically demanding on your gear. Lightweight, portable and MIL certified, the B360 Pro is ruggedized to support critical missions.
Packed for Performance

Your team requires an operating system they can trust. Powered by a 10th Generation Intel®-core processor, the B360 Pro delivers extraordinary CPU performance and real-time responsiveness. Move with ease and speed through increased bandwidth and faster transfers. The optional Nvidia GTX 1050 graphics processing unit allows for ultra-fast and clear UHD graphics displays such as maps and video. Quickly collect, analyze and turn intel into actionable information. Utilize an optional Express Card or PCMCIA for additional expansion capabilities.

Dual user-replaceable storage: PCIe SSD and SATA SSD allows for easy removal of classified hard-drives knowing data is safely secured back at command. Network down? No problem–an optional DVD or Blu-Ray allows for further data transmission, installation and back up. Windows 10 Pro and a dual high capacity battery allow you to do more tasks simultaneously without slowing down. The stakes are high and the B360 Pro is equipped for the job.
Rugged, Reliable and Ready

Engineered for survivability in military field operations, the B360 Pro will stand up to rain, dust, shock, vibration, and has an optional salt fog certification. This fully rugged laptop is MIL-STD-810H, MIL-STD-461G and IP66 certified and will withstand temperatures from -29°C to +63°C and a 6-foot drop while operating. The B360 Pro meets ANSI/ISA 12.12.01 standards for Class I Division 2 hazardous locations, giving confidence to those in hostile environments. Rugged and ready, the B360 Pro was built for the tough scenarios, even where lives depend on it.

 
Responsive and Resilient
Your environment is unpredictable–you need a machine that goes to work where and when you need to work. The B360 Pro's touchscreen is highly responsive to a diverse range of touch and outdoor light levels. Complete with LumiBond® 2.0 Technology, the capacitive touchscreen display is responsive to a finger, pen, stylus, or glove. FHD LCD display provides crisp readability on an energy-efficient and super bright display, optimizing screen brightness in direct sunlight. The B360 Pro's sunlight-readable solution boosts brightness up to 1400nits, making it one of the brightest multi-touchscreen on the market.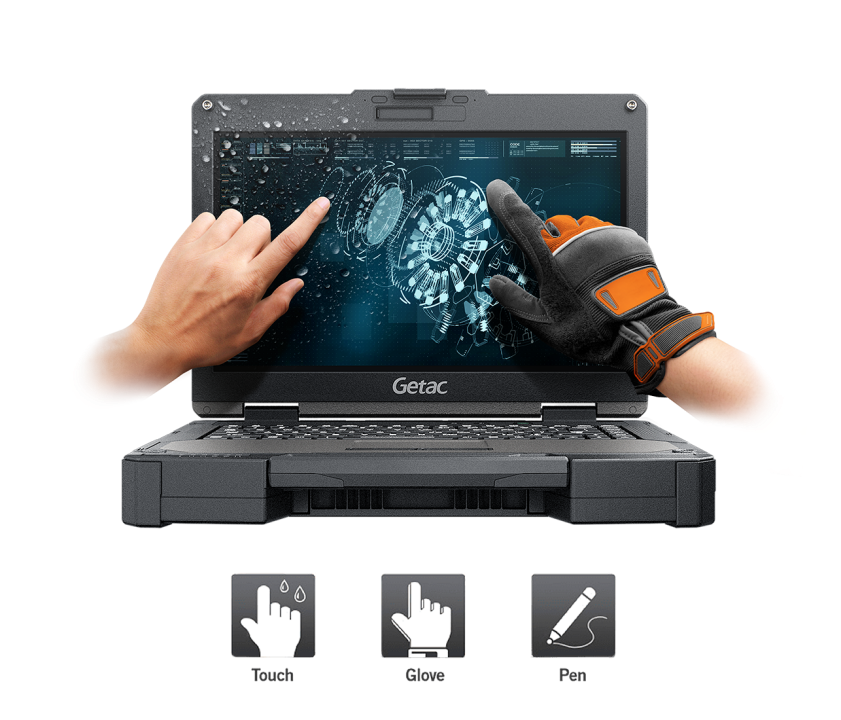 Complete Connectivity

Complete your entire mission without delays or downtime. Getac's 5G-compatible B360 Pro is equipped with Bluetooth 5.1 and Intel® Wi-Fi 6 AX200 and optional 4G LTE and integrated GPS. This means smooth streaming, fewer dropped connections and lightening-speed mobile connectivity–even in dense urban and remote locations. Remain completely connected to the network through real-time GIS and consistent communications. The optional energy-efficient dedicated GPS receiver provides superior and accurate location tracking. If your CONOPS requires complete connectivity, the B360 Pro is your solution.
Dedicated GPS

The B360's dedicated GPS offers better search capacity, faster location positioning, and improved accuracy.

Advanced 4G LTE

Enjoy exceptional coverage, download and upload speeds with fewer dropouts.
 
 

Dual Band 802.11ax Wi-Fi

Experience faster and more reliable data speeds with wireless technology.

Bluetooth 5.1

Transmit and receive data between Bluetooth® devices with ease.
Versatile and Adaptable

Versatile I/O ports include two serial ports, smart card reader, headphone-out/mic-in combo, an optional 1D/2D barcode reader as well as an optional USB 3.1 Gen 2 Type C. Connect various diagnostic instruments in the field for testing, data tracking and synchronization with ease. An additional PowerShare USB allows you to charge other devices even when powered off. The dual high capacity battery with hot-swapping technology allows for a quick and easy battery change without powering the unit down. The military-grade B360 Pro was built versatile and made to adapt.
Left Side -PCMCIA

Left Side -Discrete Graphics Controller

Left Side (Express Card /54)

Back Side (w/ Display Port)

Back Side (w/ USB Type C)

Back Side (w/ VGA Port)

Right Side

Portable Partner

Your team works in stressful environments. Cumbersome equipment can add undue stress and reduce situational awareness. The Getac B360 Pro is a portable computer that will work with them–not against them. This solid and fully rugged laptop weighs in at only 3.08Kg (6.79 lbs) for easy transitions to and from vehicle and field ops. Its compact size saves space when docked in-vehicle or stored in a compartment. In-transit and in-vehicle solutions include rounded corners for safety in physically demanding environments. I/O port replication simplifies connecting to the docking station.
Safe, Security and Situationally Aware

Your highly sensitive data requires high-level security. The B360 Pro incorporates top privacy and security measures to ensure your data is secure and protected. Quickly and safely sign-in through one or more of the B360 Pro's multi-factor authentications, including an HF RFID reader, smart card reader and face-authentication via Windows Hello. Optional Absolute DDS protects mission-critical data all the way to your end-points. Command is synced with full access to and complete control of data. Future-forward security preventing threats today.
Trusted Platform Module 2.0

The B360 Pro features TPM 2.0 – a powerful anti-tampering device that checks for any signs of intrusion during system boot-up

Absolute DDS

This optional protective measure disables your B360 Pro if it detects an unauthorized or compromised entry.

Windows 10 Security

The B360 Pro fully supports Microsoft's latest authentication tools, including Windows Hello and Microsoft Passport.
NFC/RFID Reader

Authenticate your credentials via Near Field or Radio Frequency transmission.

Smart Card Reader

The B360 Pro supports Smart Cards for secure identity verification.
 

B360

Utilities, Manufacturing and Public Safety will find this same computing power in the Getac's B360. This fully rugged laptop is light, portable and meets the rugged certifications.

Beyond Expectations.
Our new Bumper-to-Bumper fully rugged warranties go beyond the expected to protect your productivity.
3-YEAR WARRANTY.

Accidents can take your equipment out of service when you least expect it, especially in a rugged environment, which can cause costly equipment downtime.
That is why Getac has introduced accidental damage as standard under our new Bumper-to-Bumper warranty, to help minimize your enterprise IT costs.
Bumper-to-Bumper is your hassle-free guarantee. That means you can depend on us to have your unit back in service within days.

Standard.
3 years Bumper-to-Bumper.
Operating System
Windows 10 Pro
Rugged Features
MIL-STD-810H certified and IP66 certified
MIL-STD-461G certified (/w optional AC Adapter)
Optional ANSI/UL 121201, CSA C22.2 NO. 213
6 feet drop resistant
Optional salt fog certified
e-Mark certified for vehicle usage
CPU
Intel® Core™ i7 Technology
Intel® Core™ i7-10510U Processor 1.8 GHz
Max. 4.9 GHz with Intel® Turbo Boost Technology
– 8MB Intel® Smart Cache
Intel® Core™ i7 Technology
Intel® Core™ i7-10710U Processor 1.1 GHz
Max. 4.7 GHz with Intel® Turbo Boost Technology
– 12MB Intel® Smart Cache
Intel® Core™ i5 Technology
Intel® Core™ i5-10210U Processor 1.6 GHz
Max. 4.2 GHz with Intel® Turbo Boost Technology
– 6MB Intel® Smart Cache
Memory
8GB
Optional 16GB / 32GB / 64GB DDR4
Storage
main storage: 256GB
Optional: 512GB / 1TB PCIe NVMe SSD
Optional 2nd storage: 256GB / 512GB / 1TB SATA SSD
VGA Controller
Intel® UHD Graphics
Optional NVIDIA® GeForce® GTX1050 4GB discrete graphic controller*
*Discrete graphic card, PCMCIA slot, and express card slot are mutually exclusive.
Scherm
13.3″ IPS TFT LCD FHD (1920 x 1080)
1400 nits LumiBond® display with Getac sunlight readable technology
Capacitive multi-touch screen
Media Bay
Optional DVD super multi drive or Blu-Ray super multi drive
Pointing Device
Touchscreen
– Capacitive multi-touch screen
Touchpad
– Glide touchpad with multi-touch
Expansion Slots
Smart Card reader x 1
SD Card reader x 1
Optional PCMCIA Type II or Express Card/54 or
Discrete graphic controller
Optional 1D/2D imager barcode reader
Memory Card Reader
SD Card reader x 1
Smart Card Reader
Smart Card reader x 1
I/O Ports
FHD webcam x 1 or Optional Windows Hello
face-authentication camera (front-facing) x 1
Headphone out/mic-in Combo x 1
DC in Jack x 1
USB 3.1 Gen 2 Type-A x 2
PowerShare USB 2.0 x 1
LAN (RJ45) x 1
HDMI x 1
Docking connector x 1
SD Card Reader x 1
Optional SIM card slot x 1
Optional RF antenna pass-through for GPS,
WLAN and WWAN
Configurable I/O Options:
Serial port (9-pin; D-sub) x 1 + External VGA (15-pin; D-sub) x 1, or
Serial port (9-pin; D-sub) x 1 + USB 3.1 Gen 2 Type C x 1, or
Serial port (9-pin; D-sub) x 1 + Display Port x 1, or
Serial port (9-pin; D-sub) x 2 + External VGA (15-pin; D-sub) x 1, or
Serial port (9-pin; D-sub) x 2 + USB 3.1 Gen 2 Type C x 1, or
Serial port (9-pin; D-sub) x 2 + Display Port x 1
Communication Interface
10 / 100 / 1000 base-T Ethernet
Intel® Wi-Fi 6 AX200, 802.11ax
Bluetooth (v5.1)
Optional dedicated GPS
Optional 4G LTE mobile broadband with integrated GPS
Beveiliging
TPM 2.0
Smart Card reader x 1
Kensington lock
Optional HF RFID Reader
Power
AC adapter (90W, 100-240VAC, 50 / 60Hz)
AC adapter (120W, 100-240VAC, 50 / 60 Hz) (used for office dock and for device configured with Discrete Graphic Card)
High capacity battery (10.8V, typical 6900mAh; min. 6600mAh) x 2
LifeSupport™ battery swappable technology
Dimensions & Weight
342 x 281 x 53.5 mm
3.08 kg
Weight and dimensions vary from configurations and optional accessories
Environmental Spec
Temperature:
– Operating: -29°C to 63°C
– Storage: -51°C to 71°C
Humidity:
– 95% RH , non-condensing
U bent wellicht ook geïnteresseerd in de volgende producten: