Durabook R11L Volledig Robuuste Tablet
● Intel® P4417U 2.3 GHz Processor
● 11.6" Full HD Display
● Helder Zonlichtafleesbaar (optisch gebonden) Display
● Capacitief Multi Touch
● Exclusieve aanraaktechnologie, geschikt voor latex handschoenen en in vochtige omgevingen
● Leverbaar met geïntegreerde 4G/LTE met GPS
● 5MP AF Camera met led flitser
● Optioneel met 1D/2D Barcode Scanner
● Windows 10 Professional
● Lichtgewicht, slechts 1.2 kg
● IP65 bescherming tegen stof en water
● Mil-STD810G Schok, Val en Vibratie


 

R11L Tablet
Ultra Affordable With Feature-Rich Functionality

The Durabook R11L is built to meet the needs of workers in professions ranging from retail and hospitality to warehousing, logistics and field service. This tablet features a brilliant 11.6" capacitive touchscreen and high-performance, energy-smart Intel® processor for efficient use on the move. The R11L also offers an optional barcode reader, optional RFID reader, back camera, and optional smart card reader for seamless data-capture in a slim, light and durable device.
LIGHT, SLEEK, STRONG

At just 20mm thin and weighing only 1.2kg, the R11L brings a light new edge to the fully-rugged class of tablets. This tablet is super sturdy, comes in bold black, and sports a surprisingly sleek design.
IMPRESSIVE PERFORMANCE

The R11L runs on the Intel® Pentium 4417U 2.3GHz processor with Intel® HD Graphics 610, delivering excellent performance and visuals to workers out in the field. In addition, the R11L promises dependably smooth processing via the high-speed data transmission capability of Intel® Dual Band Wireless AC 9260 and Bluetooth® V5.0.
A BRILLIANT TOUCH

The Durabook R11L is designed for use in all sorts of challenging environments, including rain, cold and sunlight among others. This tablet's 11.6" Full HD (1920×1080) LCD with Durabook's proprietary DynaVue® technology makes the screen easy to view even in the bright light of day. And, does have a 10-point capacitive multi-touch panel.
VERSATILE DATA CAPTURE

The R11L features a host of integrated data-capture modules for several versatile ways to retrieve and transmit information on the move. Optional features include a barcode reader, RFID reader and smart card reader. A 2MP front camera, 5MP rear camera, Wi-Fi and Bluetooth® V5.0 come standard on this handy tablet.
LONG-LASTING POWER

Battery life is a critical concern for keeping mobile workers productive. To meet this need, the R11L offers an optional high-capacity battery that lasts for up to 16 hours without a charge.
BUILT TOUGH

Workers in the field can confidently do their jobs in all sorts of environments and temperatures with a tablet built tough like the R11L. It's MIL-STD 810G, MIL-STD 461F, and ANSI C1D2 12.12.01 certified, as well as IP65 rated, and made to withstand 4-foot drops and rigorous vibration too.
CUSTOMIZABLE TECHNOLOGY
Maximum Connectivity
The R11 offers fast, seamless connectivity boosted by multi-carrier 4G LTE capabilities. The dedicated GPS for precise positioning and accuracy the fully rugged R11 is designed for mobile workers and law enforcement use.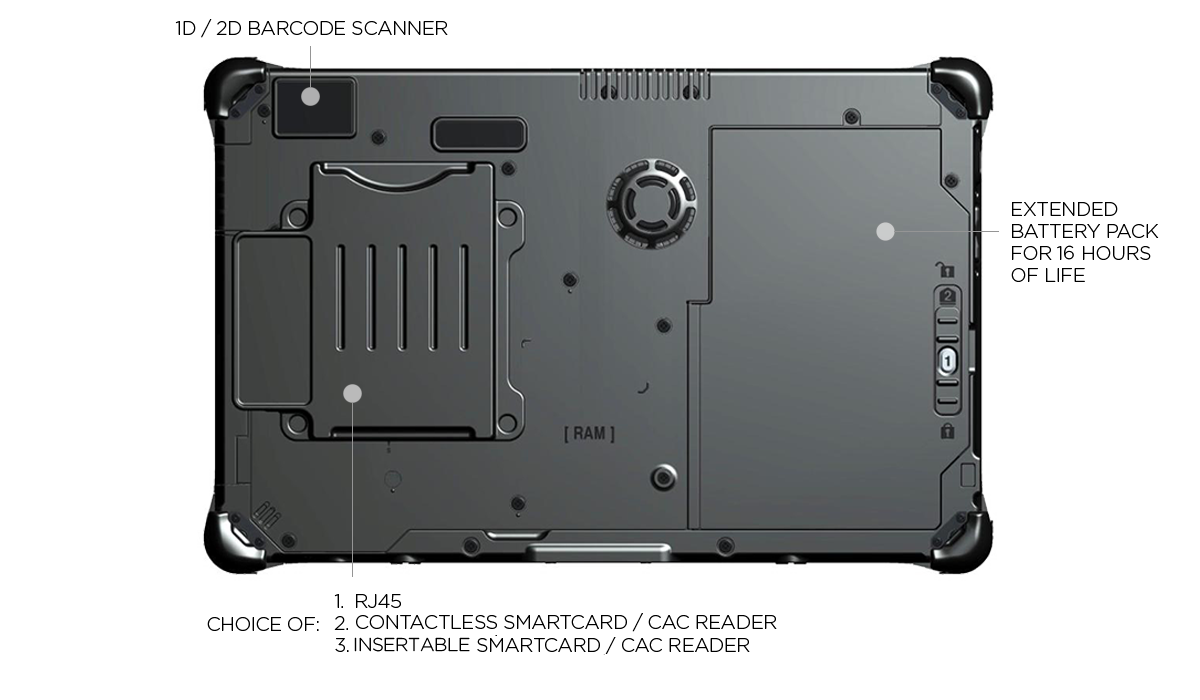 RELIABLE UNDER ANY CIRCUMSTANCE

The Durabook R11 exceeds the capabilities of standard tablets and detachable computers by meeting MIL-STD-810G requirements for drop, vibration, temperature extremes and more, as well as offering an IP65 rating and ANSI 12.12.01 C1D2 certification. With the R11, failure is not an option. With up to 16 hours of life on a single charge of its high-capacity battery, Durabook R11 users can focus on the task at hand, confident they can a perform a full day's work without ever needing to plug in.
 


PURPOSE BUILT FOR MOBILE WORKERS

When your office includes rain, cold, bright sunlight and more, you need a device that's purpose built. The Durabook R11 features a sunlight readable 11.6" FHD (1920 x 1080) LCD with Durabook's proprietary DynaVue® technology for exceptional viewability in direct sunlight. The device has a 10-point capacitive multi-touch panel that can be used with a glove, stylus, or a finger, even in the rain!