Intelligent USB I/O expansion unit with 1 slot (Gray Cover)

● One USB Port
● I/O Module Hot Swap
● Auto Configuration
● LED Indicators for Fault Detection
● DCON Protocol
● 1 I/O Slots
● Operating Temperature: -25 ~ +75 °C
USB-87Pn series is an intelligent I/O expansion unit to expand I-87K series I/O modules over the USB for industrial monitoring and controlling applications.
USB-87Pn is designed to be used in harsh and noisy environment, so the hardware is manufactured with wide power input range (10~30 VDC), isolated power input and can operate under wide temperature (-25°C ~ +75°C).
To simplify installation and maintenance of I/O modules, it provides many useful features, such as: hot swap allowed, auto configuration, LED indicators for fault detection, dual watchdog to keep alive, programmable power on and safe values for safety.
The unit supports more than 30 I/O modules including analog input/output, digital input/output, counter, frequency I/O modules. We provide various software development kits (SDK) and demos, such as DLL, ActiveX, Labview driver, InduSoft driver, Linux driver, OPC server, etc. The I-87K series I/O modules plugged in the USB-87Pn can be easily integrated into variant software system.
APPLICATIONS: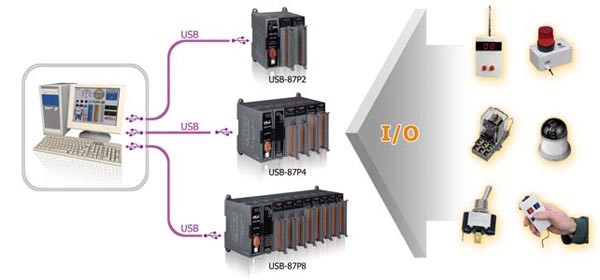 Interface
| | |
| --- | --- |
| Cable | USB type A connector |
| Baud Rate | 115200 bps Default |
| Isolation | 3000V DC |
| ESD Protection | ±4K Contact Discharge and ±8K Air Discharge |
| Communication Protocol | DCON Protocol (ASCII format) |
Switch
| | |
| --- | --- |
| DIP Switch | 1 bit *1, For auto configuration |
LED Indicators
| | |
| --- | --- |
| Power | Yes |
| System Ready | Yes |
| Auto Configuration | Yes |
| Slot Status | Yes |
I/O Expansion Slots
| | |
| --- | --- |
| Hot Swap | Yes |
| Auto Configuration | Yes |
| Support Module Type | High profile I-87K module only |
| Slots | 1 |
Mechanical
| | |
| --- | --- |
| Dimensions (w x h x d) | 64 x 120 x 111mm |
Omgeving
| | |
| --- | --- |
| Operating Temperature | -25 ~ +75 °C |
| Storage Temperature | -30 ~ +75 °C |
| Humidity | 5 ~ 95%, Non-condensing |
Power
| | |
| --- | --- |
| Input Range | 10 ~ 30V DC (non-regulated) |
| Reverse Polarity Protection | Yes |
| Isolation | 1000V DC |
| Frame Ground | Yes |
| Power Consumption | 1W |
| Power Board Driving | 5W |
U bent wellicht ook geïnteresseerd in de volgende producten: