512K battery backup SRAM Module for all I-8000 Embedded Controller

● S256 for 256K bytes battery backup
● The S256 can provide 10,000 hours backup
● Operating temperature: +0°C ~ +70°C


With different communication interface, the I/O modules can be classified to high communication speed (Parallel bus) 8K series modules and low communication speed (serial interface) 87K series modules.
There are two types of I/O modules, Parallel and Serial. The parallel modules (I-8 Series) are high-speed modules and support MCU (Main Control Unit) only.
Item
I-87K Series
Communication Interface
Parallel Bus

Protocol
-

Communication Speed
Fast

DI with Latched Function
-

DI with Counter Input
-

Power On Value
-

Safe Value
-

Programmable Slew-rate for AO Module
-

High Profile VS Low Profile
With different form factor, I/O modules can be classified to high profile and low profile. Basically, high profile and low profile modules that with same item number also have same I/O channel number.
For example: I-8054 and I-8054W both has 8 DI and 8 DO.
Except I/O channel number, other specifications could be different. You have to double check whether the specifications suit your application.
For example: For I-8054W, its DI logic high level is +10 ~ +50V. But for I-8054, it is +3.5 ~ +30V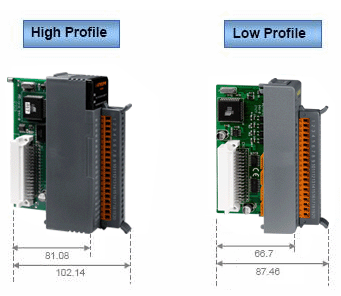 U bent wellicht ook geïnteresseerd in de volgende producten: