CANopen Firmware Inside and One Standalone Intelligent CAN Communication Board
● NMT: Master
● CANopen Version: DS-301 v4.02
● Error Control: Support Guarding protocol
● Support EMCY receiving
● Provide dynamic PDO functions
● Provide 5 sets of SYNC cyclic transmission
● Transmission type of PDO is supported
● Support Multi-Master to Single-Slave architecture
● Auto select with expedition mode or segment mode
● Support Windows 2K/XP
The PISO-CPM100 gives a very powerful and economic solution of an active CANopen master device with one CAN channel. It uses the NXP SJA1000T and 82C250 to be the CAN controller and transceiver, which provide bus arbitration, error detection with auto correction and re-transmission function. The 16-bit on-board microcontroller with real-time O.S., MiniOS7, allows many features, such as real-time message transmission and reception, filtering, preprocessing, and storage of CAN messages. Under the effect of the powerful microcontroller, this card can be made for one CAN controller manager without losing data, even in systems with a high PCI bus load. Therefore, the CANopen critical process can be implemented directly by CANopen firmware in the PISO-CPM100. In addition, users can develop their CANopen application by using the CANopen library on the host computer. When the PISO-CPM100 is active, the data exchange between users' application and CANopen firmware is performed via the memory mapping method of the PISO-CPM100.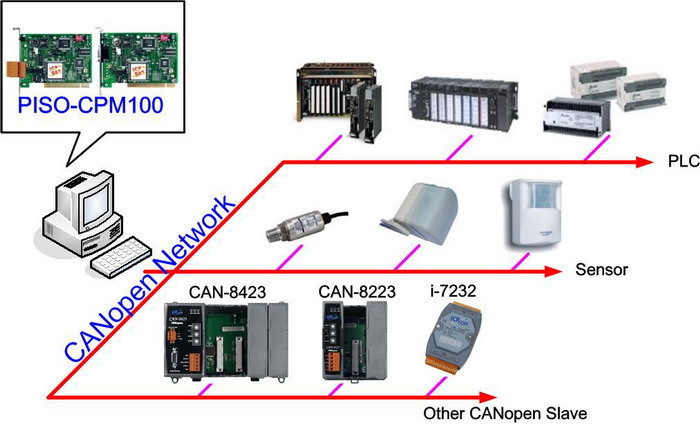 APPLICATIONS:
● Industrial Machinery
● Building Automation
● Medical
● Maritime
● Restaurant Appliances
● Laboratory Equipment & Research

FEATURES: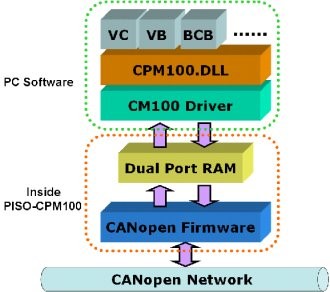 DRIVER SUPPORT:
● Development Toolkit for Windows NT4.0
● Development Toolkit for Windows 98/ME
● Development Toolkit for Windows 2000/XP
SOFTWARE UTILITY FEATURES:
Record
The utility can save all the message that is received by PISO-CPM100 to a text file to help user to analyse the messages.
Configuration
The software supports the user to configure the CANopen communication setting. And after configuring, user can save the setting into a cpm file for that user want to use the same setting next time.
Remote I/O Access
The software utility can easily to access the I/O data of all the slave devices. The users can monitor the input data of the specific slave device and change the output data to the remote slave device with this utility.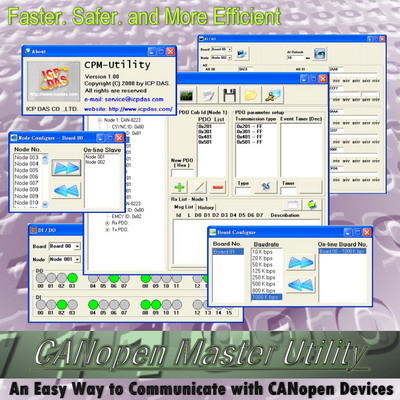 Hardware
| | |
| --- | --- |
| CPU | 80186, 80 MHz or compatible |
| SRAM/Flash/EEPROM | 512 KB / 512 KB / 2 KB |
Bus Interface
| | |
| --- | --- |
| Type | Universal PCI supports both 5 V and 3.3 V PCI bus |
| Board No. | By DIP switch |
CAN Interface
| | |
| --- | --- |
| Controller | NXP SJA1000T with 16 MHz clock |
| Transceiver | NXP 82C250 |
| Channel Number | 1 |
| Connector | 5-pin screwed terminal block (CAN_L, CAN_SHLD, CAN_H, N/A for others) |
| Baud Rate (bps) | 10 k, 20 k, 50 k, 125 k, 250 k, 500 k, 800 k, 1 M |
| Transmission Distance (m) | Depend on baud rate (for example, max. 1000 m at 50 kbps) |
| Isolation | 1000 VDC for DC-to-DC, 2500 Vrms for photo-couple |
| Terminator Resistor | Jumper for 120 Ω terminator resistor |
| Specification | ISO-11898-2, CAN 2.0A and CAN 2.0B |
| Protocol | CANopen DS-301 v4.02, DS-401 v2.1 |
LED Indicators
| | |
| --- | --- |
| Round LED | Green LED, Red LED |
Software
| | |
| --- | --- |
| Driver | Windows 2K/XP |
| Library | VB 6.0, VC++ 6.0, BCB 6.0 |
Power
| | |
| --- | --- |
| Power Supply | Unregulated +10 ~ +30 VDC |
| Power Consumption | 300 mA @ 5 V |
Mechanical
| | |
| --- | --- |
| Dimensions (w x h) | 138 x 127mm |
Omgeving
| | |
| --- | --- |
| Operating Temperature | 0 °C ~ +60 °C |
| Storage Temperature | -20 °C ~ +80 °C |
| Humidity | 0 ~ 95% RH, non-condensing |