3-axis Encoder Module

● 3-axis, 16 bits encoder counter
● 32 bits encoder counter by software
● Maximum counting rate: 1 M pulse/sec.
● Differential input: A+,A-,B+,B-,C+,C-
● Quadrant counting mode, CW/CCW counting mode, Pulse/Dir counting mode
● Isolated voltage: 2500 Vrms


ICPDAS Motion Module I-8090W is a 3-axis encoder counter board. I-8090W encoder card has internal digital filter, 16 bits counter and high counting rate 1Mpps. The application of I-8090W is position/distance measurement, velocity measurement, feedback for motor control, hand wheel input and so on. A system including, I-8091W,I-8090W can be implemented as a standalone motion controller system for low cost automatically machine.
With different communication interface, the I/O modules can be classified to high communication speed (Parallel bus) 8K series modules and low communication speed (serial interface) 87K series modules.
There are two types of I/O modules, Parallel and Serial. The parallel modules (I-8 Series) are high-speed modules and support MCU (Main Control Unit) only.
Item
I-87K Series
Communication Interface
Parallel Bus

Protocol
-

Communication Speed
Fast

DI with Latched Function
-

DI with Counter Input
-

Power On Value
-

Safe Value
-

Programmable Slew-rate for AO Module
-

High Profile VS Low Profile
With different form factor, I/O modules can be classified to high profile and low profile. Basically, high profile and low profile modules that with same item number also have same I/O channel number.
For example: I-8054 and I-8054W both has 8 DI and 8 DO.
Except I/O channel number, other specifications could be different. You have to double check whether the specifications suit your application.
For example: For I-8054W, its DI logic high level is +10 ~ +50V. But for I-8054, it is +3.5 ~ +30V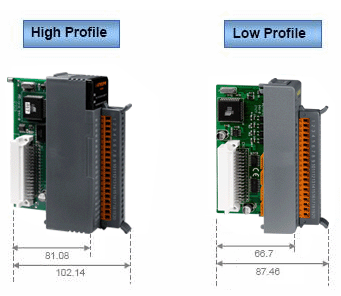 APPLICATIONS
● Position measure of motion system
Encoder Input
Input Axis
3-axis
Encoder Counter
16-bit (32-bit encoder counter by software)
Counting Mode

Quadrant Counting
CW/CCW
Pulse/Dir

Maximum Counting Rate
1 MHz
Intra-module isolation, Field to Logic
2500 Vrms
4KV ESD Protection
Contact for each channel
LED Indicators
| | |
| --- | --- |
| 1 LED | Power Indicator |
| 8 LED | Status Indicator |
Power
| | |
| --- | --- |
| Power Consumption | 3.4 W max. |
Mechanical
| | |
| --- | --- |
| Dimensions (w x l x h) | 30 x 102 x 115 mm |
Omgeving
| | |
| --- | --- |
| Operating Temperature | -25 °C ~ +75 °C |
| Storage Temperature | -30 °C ~ +85 °C |
| Humidity | 5 ~ 95% RH, Non-condensing |
U bent wellicht ook geïnteresseerd in de volgende producten: