Programmable automatic controller with two series communication port (RS-232/RS-485), one CAN port, seven segment Display, developing tool kit 512k flash ,512k SRAM, Minios7, 1 DI and 1 DO channels

● 2500 vrms photo-isolation protection
● Compatible with CAN specification 2.0 parts A and B
● Programmable transfer rate up to 1 Mbps
● Jumper select 120Ω terminator resistor for CAN channel
● 64-bit hardware unique serial number inside
● COM driver support interrupt & 1K QUEUE input buffer
● COM port: COM1, COM2
● Built-in RTC, NVRAM, EEPROM
● One digital Input channel and one open collector output channel
● Built-in self-tuner ASIC controller on RS-485 port


The ICPDAS I-7188XBD-CAN series PACs (Programmable Automation Controller) are powered by 80188-40 processor with 512K bytes of static RAM, and 512K bytes of Flash memory. All of them provide several communication interfaces to adapt to various applications, such as CAN port, RS-232 port and RS-485 port.
Uses can program their application program flexibly with C/C++ language because of the built-in MiniOS7 operation system. Besides, the I-7188XBD-CAN series PACs have different I/O types for users to match their requirement. For ICPDAS I-7188XBD-CAN, it provides 1 open collector digital output channel and 1 digital input channel.
It is useful for transfer the command from differential communication interface. Therefore, it can satisfy the applications with I/O demand. Therefore, the I-7188XBD-CAN series PACs are economic and convenient solution for diversification CAN application.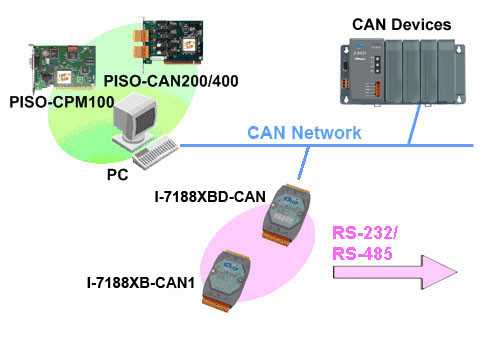 APPLICATIONS
● CAN Bus Communication Application
● Industry Automation
● Auto Detecting
● CANopen Slave Devices
● IO Monitor
● High Speed Data Acquisition System
● Process Monitor and Control
● Factory Automation
● Laboratory Automation
● Communication Switching

Hardware
| | |
| --- | --- |
| CPU | 80186, 40 MHz or compatible |
| SRAM/Flash/EEPROM | 512KB / 512KB / 2KB |
| NVRAM | 31 bytes (battery backup, data valid for up to 10 years) |
| RTC (Real Time Clock) | Yes |
| Watchdog | CPU built-in |
| Hardware Serial No. | 64-bit hardware serial No. |
| ESD Protection | 4kV class A |
CAN Interface
| | |
| --- | --- |
| Controller | NXP SJA1000T with 16 MHz clock |
| Transceiver | NXP 82C250 |
| Channel Number | 1 |
| Connector | 5-pin screwed terminal block (CAN_L, CAN_H, N/A for others) |
| Baud Rate | 10k, 20k, 50k, 125k, 250k, 500k, 800k, 1M (allow user-defined baud rate) |
| Transmission Distance | Depend on baud rate (for example, max. 1000m at 50kbps ) |
| Isolation | 1000V DC for DC-to-DC, 2500 vrms for photo-couple |
| Terminator Resistor | Jumper for 120Ω terminator resistor |
| Specification | ISO-11898-2, CAN 2.0A and CAN 2.0B |
UART Interface
COM 1
RS-485/RS-232 (can't be used simultaneously)
COM 1 Connector

2-pin screwed terminal block (DATA+, DATA-)
5-pin screwed terminal block (TxD, RxD, RTS, CTS, GND)

COM 2
RS-485 (Self-turner inside)
COM 2 Connector
2-pin screwed terminal block (DATA+, DATA-)
Transmission Distance
Depend on baud rate (for example, max. 1200m at 9.6kbps )
Baud Rate
110, 150, 300, 600, 1200, 2400, 4800, 9600, 19200, 38400, 57600, 115200
LED Indicators
| | |
| --- | --- |
| Round LED | L1 LED, L2 LED, L3 LED |
| 5-digit 7 Segment | Yes |
Power
| | |
| --- | --- |
| Power Supply | Unregulated +10 ~ +30V DC |
| Protection | Power reverse polarity protection, Overvoltage brownout protection |
| Power Consumption | 3W |
Mechanical
| | |
| --- | --- |
| Installation | DIN-Rail Mounting |
| Dimensions (w x l x h) | 72 x 33 x 122mm |
Omgeving
| | |
| --- | --- |
| Operating Temperature | -25 °C ~ 75 °C |
| Storage Temperature | -40 °C ~ 80 °C |
| Humidity | 5 ~ 95% RH, non-condensing |
U bent wellicht ook geïnteresseerd in de volgende producten: