PROFIBUS/Modbus Gateway

● Protocol & Hierarchy: DP-V0 Slave
● Detect transmission rate (9.6 ~ 12000 kbps) automatically
● 128 bytes max input data length
● 130 bytes max output data length
● Support Modbus Master and Slave mode
● Support Modbus RTU and ASCII format
● Address 0~126 set by DIP switch or EEPROM
● Support several kinds of baud rate for COM1 from 2.4 to 115.2 kbps
● Network Isolation Protection: High Speed iCoupler
● 3000 VDC isolation protection on PROFIBUS side


The ICPDAS CAN Bus Gateway GW-7552 is specially designed for the slave device of PROFIBUS DP protocol. It allows the PROFIBUS master to access the Modbus devices.
These Modbus devices may be a PLC, a sensor, ICPDAS M-7000 series modules and so forth. In addition, we also provide the utility software for users to configure the GW-7552. By using this module, users can put their Modbus devices into PROFIBUS network very easily.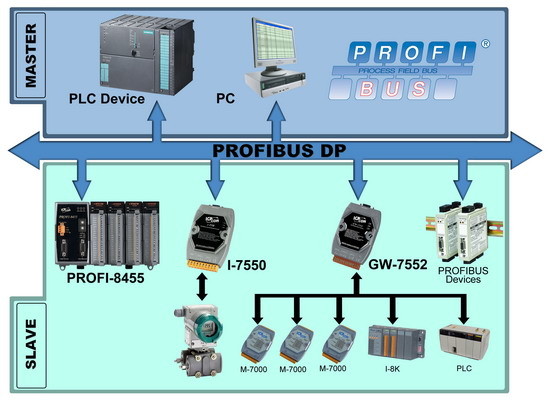 APPLICATIONS
● Industrial Automation
● Factory Automation
● Process Automation


Hardware
| | |
| --- | --- |
| CPU | 80186, 80MHz |
| SRAM/Flash/EEPROM | 512KB / 512KB / 16KB |
| Watchdog Timer | CPU Built-In |
PROFIBUS Interface
| | |
| --- | --- |
| Interface | 9-pin D-Sub (Female) |
| Controller | Siemens SPC3 |
| Transceiver | ADI ADM2486 iCoupler Isolated Transceiver |
| Transmission Rate | Up to 12Mbps |
UART Interface
| | |
| --- | --- |
| COM 1 | RS-232(3 wires)/RS-422/RS-485 |
| Baudrate | Up to 115.2Kbps |
Power
| | |
| --- | --- |
| Power Requirement | 10V ~ 30V |
| Power Consumption | 2.5W |
Mechanical
| | |
| --- | --- |
| Dimensions (h x w x d) | 118 x 72 x 33mm |
Omgeving
| | |
| --- | --- |
| Operating Temperature | -25 °C ~ +75 °C |
| Storage Temperature | -30 °C ~ +85 °C |
| Humidity | 5% ~ 95% RH |
U bent wellicht ook geïnteresseerd in de volgende producten: