J1939/Modbus RTU Slave Gateway
● Provide PWR / J1939 / MODBUS indication LED
● Built-in jumper to select 120 ohm terminal resister
● Watchdog inside
● Transmission and reception of all types of J1939 messages, including PDU1, PDU2, broadcast and destination specific
● J1939 Transport Protocol for transmission and reception of large messages (9 - 1785 bytes)
● Supported BAM / CTS / RTS of Connection Management Message
● Network addresses management
● Supported Modbus RTU slave protocol
● Configurable for Modbus Network ID(1~250)
● Configurable baud rates of 2400, 4800, 9600, 19200, 38400, 57600, 115200 bps
GW-7228 is a solution that provides a communication transformation between J1939 protocol and Modbus RTU protocol. For J1939 network, the GW-7228 supports PDU1, PDU2, broadcast and destination specific type of J1939 messages.
From the view of Modbus RTU network, GW-7228 plays a Modbus RTU slave role to receive the commands from Modbus RTU master, and to reply the information to Modbus RTU slave. We provide Utility software for users to configure the parameters of J1939 / Modbus RTU of GW-7228.
The application fields can be Diesel power-train applications, In-Vehicle networks for trucks and buses, etc.

The following figure shows the application architecture for the GW-7228: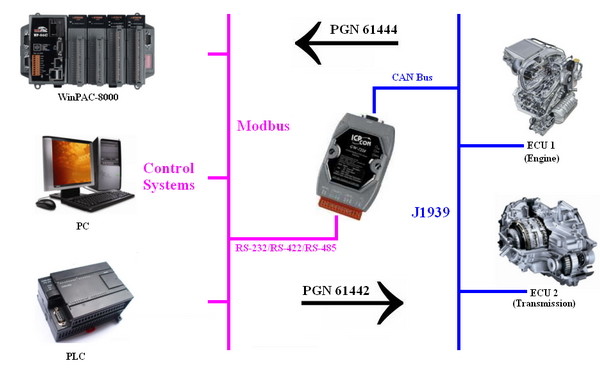 APPLICATIONS
● Control System
● In-Vehicle networks for trucks and buses
● Truck-Trailer connections
● Fleet management systems
● On Board Diagnostics
● Vehicle Automation

UTILITY
● Provide Modbus network configuration interface.
● Provide J1939 network configuration interface – Network Address / Device Name…
●Provide J1939 Input / Output configuration interface.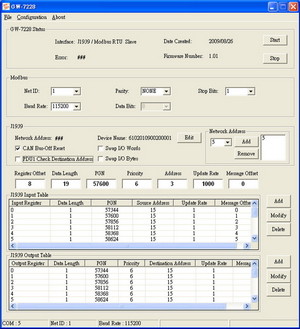 CAN Interface
| | |
| --- | --- |
| Controller | Microprocessor inside with 96 MHz |
| Transceiver | NXP 82C250 |
| Connector | 9-pin D-sub connector |
| Baud Rate (bps) | 250k |
| Isolation | 3000 VDC power protection on CAN side, 2500Vrms photo-couple isolation on CAN bus |
| Terminator Resistor | Selectable 120Ω terminator resistor by jumper |
| Specification | ISO-11898-2, CAN 2.0A and CAN 2.0B |
| Pin Assignment | C.I.A. DS-102 (CAN_H=7, CAN_L=2) |
UART Interface
| | |
| --- | --- |
| Connector | 14-pin screw terminal connecter |
| COM1 | RS-232(TXD, RXD, GND) |
| COM2 | RS-422(Tx+, Tx-, Rx+, Rx-)/ RS-485(D+, D-) |
| Baud Rate (bps) | 2400, 4800, 9600, 19200, 38400, 57600, 115200 |
LED Indicators
| | |
| --- | --- |
| Round LED | PWR / J1939 / MODBUS |
Power
| | |
| --- | --- |
| Power supply | +10 ~ +30 VDC |
| Power Consumption | 1.5 W |
| Dip Switch | Init (Firmware Update) / Normal (Firmware Operation) |
Mechanical
| | |
| --- | --- |
| Dimensions (h x w x d) | 108 x 72 x 35mm |
Omgeving
| | |
| --- | --- |
| Operating Temperature | -25 ~ 75 ℃ |
| Storage Temperature | -40 ~ 80 ℃ |
| Humidity | 5 ~ 95% RH, non-condensing |
U bent wellicht ook geïnteresseerd in de volgende producten: