DeviceNet Embedded Device with 2 I/O Expansions

● Number of Nodes: 64 max.
● Baud Rate: 125 K, 250 K, 500 K
● Support Message Groups: Group 2 only Server
● I/O Operating Modes: Poll, Bit-Strobe, Change of State / Cyclic
● Device Heartbeat & Shutdown Message
● Produce EDS file Dynamically
● No. of Fragment I/O: 128 Bytes max. (Input / Output)
● MAC ID Setting by Rotary Switch
● Baud Rate Setting by Rotary Switch
● Status LED: NET, MOD, PWR


DeviceNet is one kind of the network protocols based on the CAN bus and mainly used for embedded network for machine control, such as textile machinery, printing machines, injection molding machinery, or packaging machines, etc. DeviceNet is a low level network that provides connections between simple industrial devices (sensors, actuators) and higher level devices (controllers). It allows direct peer to peer data exchange between nodes in an organized and, if necessary, deterministic manner. DeviceNet defines a connection-based scheme to facilitate all application communications. A DeviceNet connection provides a communication path between multiple endpoints. The endpoints of a connection are applications that need to share data.
The ICPDAS 8000 Series I/O Unit CAN-8224 main control unit is specially designed for the slave device of DeviceNet protocol. It follows the Specification of DeviceNet. In order to expand I/O channel more flexible, an CAN-8x24 supports 1/2 slot(s) for I/O expansion and suits with a lot of ICP DAS DI/AI/DO/AO modules.Users can choice DI/DO/AI/AO modules of I-87K series or I-8000 series to fit the customized practice applications.
In addition, we also provide CAN Slave Utility to allow users to create the EDS file dynamically. The EDS file is based on DeviceNet and can be compatible with different DeviceNet master interfaces. The application architecture is as image on the right.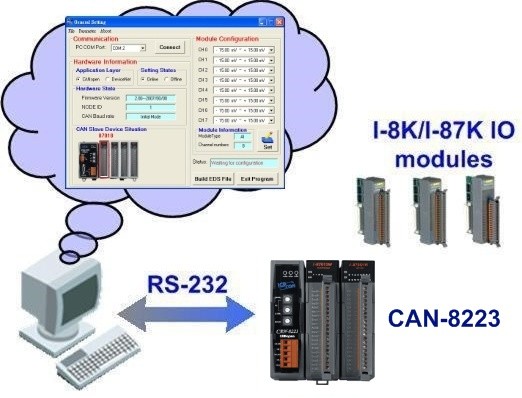 APPLICATIONS
● Automotive
● Food & Beverage
● Packaging
● High-speed Assembly
● Pulp & Paper
● Semiconductor Fabrication
● Control System
UTILITY
In the ICPDAS 8000 Series I/O Unit CAN-8224 device, ICPDAS provides CAN Slave Utility to produce the specific EDS file with the plugged in modules in off-line mode. After finishing the utility configuration, it can create the EDS file. There is also much DeviceNet information of the CAN-8x24 in the EDS file. It is not only for DeviceNet master interface but also for users to know more information about the slave device. Users also can use the default configuration for general DI/DO/AI/AO. And users only need to set the MAC ID and Baud rate by hardware rotary switch. Then, after wire connection and the CAN-8x24 powered on, it can work normally on the CAN bus network through DeviceNet protocol. 
DESIGN FLOWCHART
The following simple steps show how to use CAN-8x24 in DeviceNet protocol.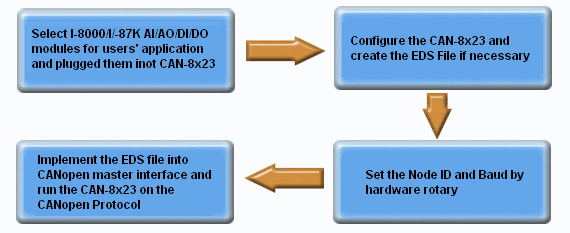 Hardware
| | |
| --- | --- |
| CPU | 80186, 80 MHz or compatible |
| SRAM/Flash/EEPROM | 512 KB / 512 KB / 16 KB |
| DPRAM | 8 KB |
| NVRAM | 31 bytes (battery backup, data valid for up to 10 years) |
| RTC (Real Time Clock) | Yes |
| Watchdog | CPU built-in |
| Expansion Slot | 2 slots |
CAN Interface
Controller
NXP SJA1000T with 16 MHz clock
Transceiver
NXP 82C250
Channel Number
1
Connector
5-pin screwed terminal block (CAN_GND, CAN_L, CAN_SHLD, CAN_H, CAN_V+)
Baud Rate
125 k, 250 k, 500 k
Transmission Distance
Depend on baud rate (for example, max. 500 m at 125 kbps)
Isolation
3000 VDC for DC-to-DC, 2500 Vrms for photo-couple
Terminator Resistor
Jumper for 120 Ω terminator resistor
Specification
ISO-11898-2, CAN 2.0A and CAN 2.0B
Protocol

DeviceNet Volumn I v2.0, Volumn II v2.0
Predefined Master/Slave Connection set
LED Indicators
| | |
| --- | --- |
| Round LED | PWR LED, NET LED, MOD LED |
Power
| | |
| --- | --- |
| Power Supply | Unregulated +10 ~ +30 VDC |
| Protection | Power reverse polarity protection, Overvoltage brownout protection |
| Power Consumption | 2 W |
Mechanical
| | |
| --- | --- |
| Installation | DIN-Rail or Wall Mounting |
| Dimensions (w x l x h) | 95 x 132 x 91mm |
Omgeving
| | |
| --- | --- |
| Operating Temperature | -25 °C ~ +75 °C |
| Storage Temperature | -30 °C ~ +80 °C |
| Humidity | 10 ~ 90% RH, non-condensing |
U bent wellicht ook geïnteresseerd in de volgende producten: