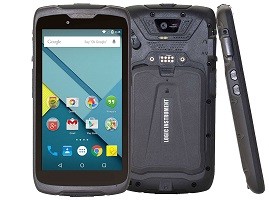 Rugged Smartphone
Met een rugged smartphone hoeft u nooit meer bang te zijn om uw telefoon te laten vallen. De rugged smartphones, die u bestelt bij Fieldworks Direct B.V., krijgt u namelijk niet zo snel kapot. Of u hem nu laat vallen op de grond of in het water, een rugged smartphone laat u niet in de steek. Dit maakt een rugged smartphone onmisbaar in sectoren die het nodige van hun apparatuur eisen, zoals defensie, de bouw of de medische sector.
Een rugged smartphone biedt stevigheid én de nieuwste technologie
Hoewel smartphones en tablets tegenwoordig steeds geavanceerder worden, gaan ze ook steeds sneller kapot na een val. Dit geldt niet voor de rugged smartphone of de robuuste tablet! Dat terwijl de robuuste smartphone wel gewoon over de nieuwste technologie beschikt. Kan u wel een extra sterke telefoon gebruiken tijdens uw werkzaamheden? Kies dan voor één van de robuuste smartphones van Fieldworks Direct B.V. In ons assortiment vindt u verschillende robuuste smartphones. De één nog geavanceerder en steviger dan de ander. Wilt u graag advies bij het kiezen van de meest geschikte rugged smartphone? Of heeft u andere vragen? Neem dan contact met ons op en bel naar +31 (0) 73 624 1111. Heeft u uw gewenste model al gevonden? Vraag dan direct een offerte aan via onze website.