iRuggy G8s Volledig Robuuste Tablet
G8s Fully Rugged Tablet
8" Windows / Android Tablet
● Intel Quad Core x7-Z8750 1.6GHz processor
● 1280 x 800 WXGA resolution LCD panel
● Available with Windows OS / Android 7.0
● User-selectable touch mode sensitivity (Stylus, Hand, Rain or Glove)
● 8,000 mAH (3.7V) long battery life, hot swappable for uninterrupted use during long shifts
● IP65 rated protection and design built survive 1.2 meter drop testing
● Optional Modules Available: Smart Card Reader, Fingerprint reader, 1D/2D barcode Scanner
● WLAN, Bluetooth 4.0, and optional LTE and GPS
● Camera module supports 8M pixel with auto focus and LED flash
● Wide modular expansion design for data capture
● 1D/2D optical scanner
● Capacitive fingerprint reader
● HF RFID reader
● MSR
G8s Always Ready, Always Rugged,
uncompromised performance
The Intel Atom Processor X Series provides Quad-Core performance and excellent battery life. The Intel x7-Z8750 features Secure Boot and new baseline security with the new AES instructions (Intel AES-NI) for faster data encryption with no performance compromise. Windows 10 has faster start-up time and smoother multitasking abilities using the X Series.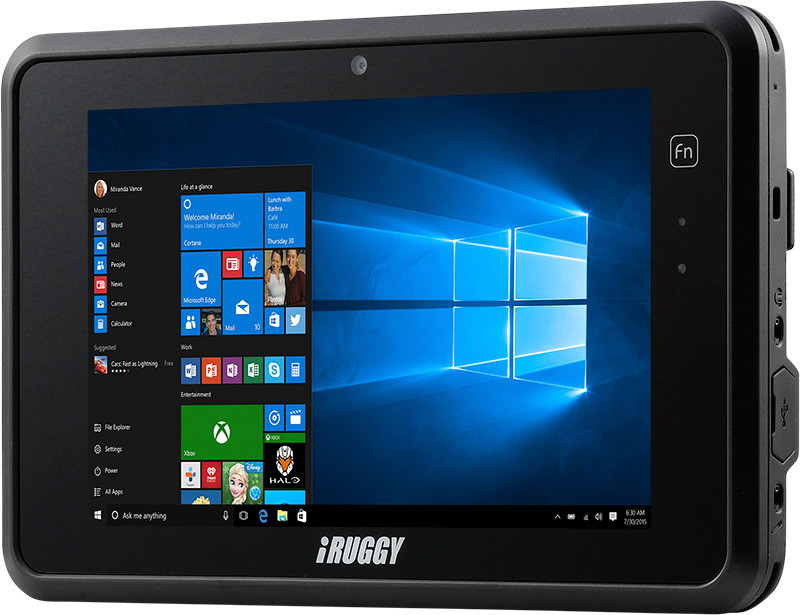 Intel Quad Core x7-Z8750

4 user selectable
touch modes

Wifi 802.11
a/b/g/n/ac

MIL-810G

IP65

Bluetooth

4G / LTE

GPS (GNSS)
Improving Workstation Ergonomics
Means to Be Mobile
Workers increasingly interact with mobile devices, taking advantage of the benefits and flexibility mobility provides. Ergonomic design is an important factor in Enterprise Mobility products as they are designed to be carried for hours. The G8s tablet is lightweight at only 850g and the 8" 1280×800 WXGA display has been built with ergonomic design optimized for comfort and ease-of-use in extended mobile operation.

The perfect companion is ready to go anywhere.
Multiple Touch Mode Support – Hand, Glove, Stylus or Rain

The G8s configurable touch mode is designed to support indoor or outdoor Logistic, industrial or field service tasks. The G8s touch modes can be switched between modes simply with the dedicated button; select between hand, glove, stylus or rain to suit the working conditions.

Hand Mode: 5-point touch input fully supporting today's gesture-based apps.
Glove Mode: No need to compromise on safety or warmth.
Stylus Mode: Optional tethered stylus with 2mm nib for precise data entry and complex menu navigation.
Rain Mode: Cloudy sky? No problem!
Robust Module-Based Expansion for Precise & Convenient Data Collection

The G8s provides optimal configuration through a modular approach, featuring 3 universal bays that allow flexible expansion to suit multiple applications. Support for Barcode 1D/2D scanner, HF RFID, Fingerprint readers, and MSR; additionally brackets are available for 3rd party mPOS devices, LAN/COM module (by request), giving the G8s the flexibility you demand.

The built-in camera supports 8M pixels (Rear) & 2M pixels (Front) with auto focus and LED flash.
Built to Survive from
Any Extreme Working Scenario
Protected against dust, liquids, shock, vibration, drop tested to 1.2 meter (4 feet) onto plywood over concrete and extreme operating temperatures from -10°C to 50°C, the G8s is the perfect mobile device to take into any environment.
Rated at IP65-Ingress Protection and MIL-STD-810G the G8s is built rugged for extended life, indoors or outdoors.
The G8s provides reliable connectivity and wireless communication with Wi-Fi 802.11 a/b/g/n/ac, Bluetooth 4.0+LE, optional 4G LTE ready to operate on any carrier, and accurate GNSS.
Shipped with Windows® 10 IoT Enterprise or Android 7 and 64GB Storage, 4GB RAM support industrial application requirements.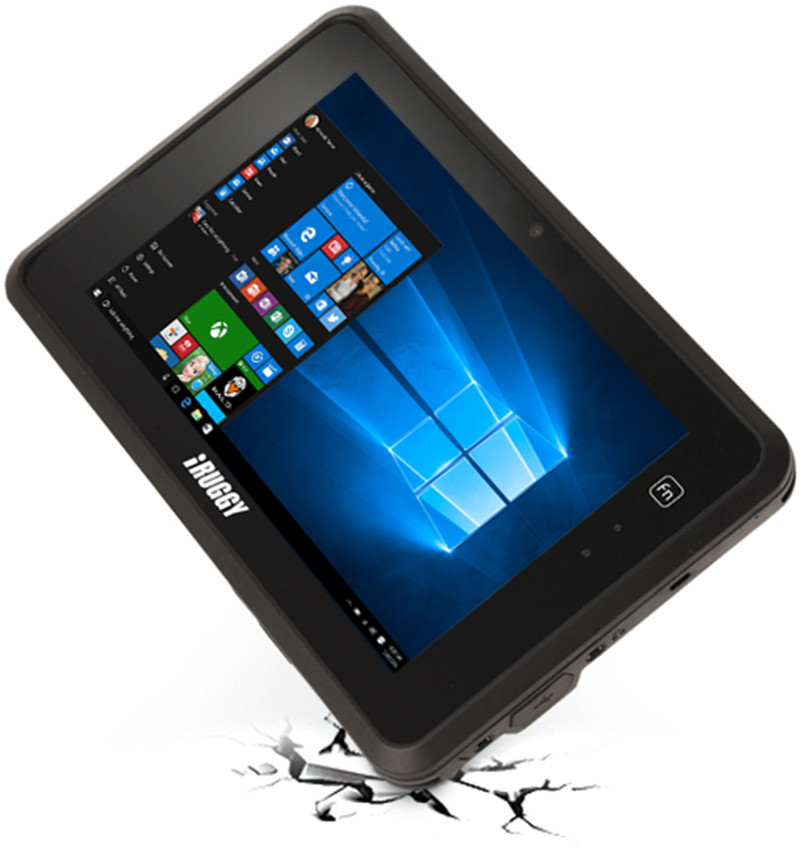 Documenten

Download PDF Brochure
Operating System
Windows 10 IoT Enterprise
Android 7
CPU
Intel® Atom X7-Z8750 Quad-Core 1.6GHz (up to 2.56GHz)
Storage
64GB eMMC
Micro SD Card slot
VGA Controller
Intel HD Graphics
Scherm
8" WXGA Display (1280x800 pixels)
5-point capacitive multi-touch
Supports Hand Mode, Glove Mode, Stylus Mode (with optional tethered stylus with 2mm nib for precise data entry and complex menu navigation) and Rain Mode:

X Bay
8M Rear Camera with LED flash
2M Front Camera
Pointing Device
5-point capacitive multi-touch
Optional tethered stylus with 2mm nib for precise data entry and complex menu navigation.
Expansion Slots
3 Universal bays for flexible expansion:
- Barcode 1D/2D scanner module
- HF RFID Module
- Fingerprint reader Module
- MSR Module
Memory Card Reader
micro SD Card slot
I/O Ports
1x Micro USB 2.0 support OTG
1x Audio
1x Mic
1x micro SD
1x DC-In
1x Docking connector

Communication Interface
WiFi 802.11 a/b/g/n/ac
Bluetooth 4.0+LE (Class 2)
Integrated GPS (Dedicated GNSS option)
NFC
Integrated 4G / LTE (optional)

Beveiliging
Fingerprint scanner (optional)

Power
Universal AC 100V ~ 240V, 50~60Hz Input;
5VDC@4.0A,
Battery: 8.000mAh

Dimensions & Weight
234 x 152 x 26 mm
850 g (incl. battery)
Environmental Spec
IP65 and 1,2m drop resistant
MIL-STD810G :
operating temperature: -10˚C ~ 50˚C, max. 35˚C when Charging Battery, 90% RH non-condensing