G10s Fully Rugged Tablet
10" Windows / Android Tablet
● Intel Quad Core x7-Z8750 1.6GHz processor
● 10 inch WUXGA (1920 x 1200) Display
● Windows OS/ Android Available
● User-selectable touch modes (Stylus, Hand, Rain or Glove)
● 8,000 mAh (3.8V) long battery life, hot swappable for uninterrupted use during long shifts
● IP65 rated protection and built to survive 1.2 meter drop testing (testing compliant with MIL-STD-810G)
● WLAN, Bluetooth 4.0, and optional WWAN and GNSS
● Camera module supports 8M pixel with auto focus and LED flash
● Wide modular expansion design for data capture
- 1D/2D optical scanner
- Capacitive fingerprint reader
- HF RFID reader
- MSR
G10s Always Ready, Always Rugged,
uncompromised performance
The Intel Atom Processor X Series provides Quad-Core performance and excellent battery life. The Intel x7-Z8750 features Secure Boot and new baseline security with the new AES instructions (Intel AES-NI) for faster data encryption with no performance compromise. Windows 10 has faster start-up time and smoother multitasking abilities using the X Series.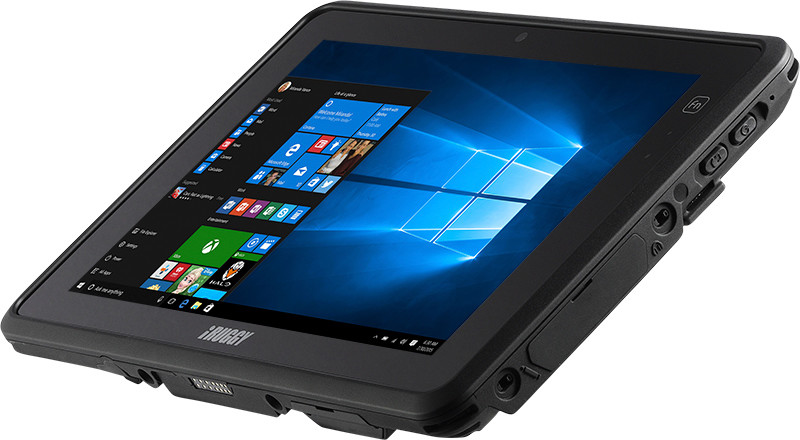 Intel Quad Core x7-Z8750

1920x1200 Resolution

4 user selectable
touch modes

Wifi 802.11
a/b/g/n/ac

MIL-810G

IP65

Bluetooth

4G / LTE

GPS (GNSS)
New Discoveries and Enhanced Visual Experiences Through G10s
| | |
| --- | --- |
| The display determines the quality of the visual experience for every application on your tablet. To ensure optimal experience for the user and to differentiate our tablet from the competition we have integrated a high resolution 1920×1200 WUXGA display. Outperforming the competition the G10s' display brings clarity to every task and provides high of brightness for bright daylight readability. | |
|   |   |
 

Multiple Touch Mode Support – Hand, Glove, Stylus or Rain

 

The G10s has a configurable touch mode to suit the application environment. Suitable for most logistic tasks indoor or outdoor, the touch modes ensure the tablet touch performance works every time. Switching to different types of capacitive recognition the display can be switched to the appropriate setting as required. Standard profiles are built-in and switching is simplified with a dedicated button.

Hand Mode: 5-point touch input fully supporting today's gesture-based apps.
Glove Mode: No need to compromise on safety or warmth.
Stylus Mode: Optional tethered stylus with 2mm nib for precise data entry and complex menu navigation.
Rain Mode: Cloudy sky? No problem!
 

Data Capture Expansion to Fit Vertical Integration

The G10s provides optimal configuration through a modular approach. The design provides 3 universal bays that allow flexible expansion of the tablet to suit the deployed application. Support for 1D/2D scanner, HF RFID, capacitive fingerprint reader and MSR. Additionally brackets for 3rd party mPOS devices, LAN/COM module (by request), giving the G10s flexibility to deploy in multiple scenarios.

The built-in camera supports 8M pixels (Rear) & 2M pixels (Front) with auto focus and LED flash.
Hot Swappable for Uninterrupted Usage
with Power Management Battery
Mission Critical use in the enterprise requires reliability and constant up-time. Utilizing an 8,000mAh battery that lasts approximately 8 hours of heavy usage ensures the workforce has a highly portable and durable mobile device they can rely on. The addition of Hot Swap allows for battery changes without the need to power off the device.
The battery pack features Power Management, a battery status indicator simplifying identification of full and low powered batteries. Avoid unnecessary charging and interruptions in productivity by checking the charge at any time at the press of a button.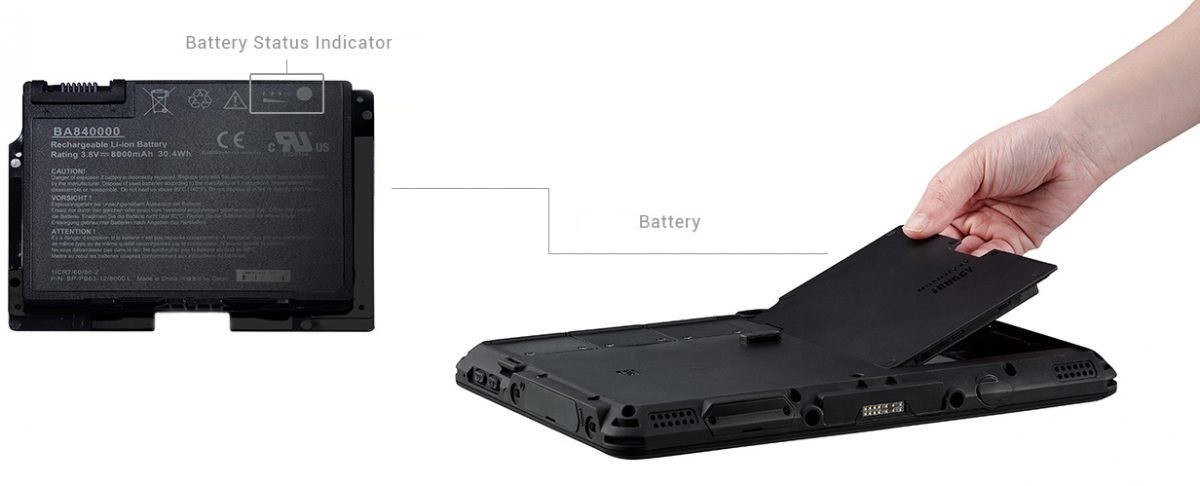 Documenten

Download PDF Brochure
Operating System
Windows 10 IoT Enterprise
Android 7
CPU
Intel® Atom X7-Z8750 Quad-Core 1.6GHz (up to 2.56GHz)
Storage
64GB eMMC
Micro SD Card slot
VGA Controller
Intel HD Graphics
Scherm
10" WUXGA Display (1920 x 1200 pixels)
5-point capacitive multi-touch
Supports Hand Mode, Glove Mode, Stylus Mode (with optional tethered stylus with 2mm nib for precise data entry and complex menu navigation) and Rain Mode:

X Bay
8M Rear Camera with LED flash
2M Front Camera
Pointing Device
5-point capacitive multi-touch
Optional tethered stylus with 2mm nib for precise data entry and complex menu navigation.
Expansion Slots
3 Universal bays for flexible expansion:
- Barcode 1D/2D scanner module
- HF RFID Module
- Fingerprint reader Module
- MSR Module
Memory Card Reader
micro SD Card slot
I/O Ports
1x USB 2.0
1x Micro USB 2.0 support OTG
1x Micro HDMI
1x Audio
1x Mic
1x micro SD
1x DC-In
1x Docking connector

Communication Interface
WiFi 802.11 a/b/g/n/ac
Bluetooth 4.0+LE (Class 2)
Integrated GPS (Dedicated GNSS option)
NFC
Integrated 4G / LTE (optional)

Beveiliging
Fingerprint scanner (optional)

Power
Universal AC 100V ~ 240V, 50~60Hz Input;
5VDC@4.0A,
Battery: 8.000mAh

Dimensions & Weight
277 x 185 x 20 mm
997 g (incl. battery)
Environmental Spec
IP65 and 1,2m drop resistant
MIL-STD810G :
operating temperature: -10˚C ~ 50˚C, max. 35˚C when Charging Battery, 90% RH non-condensing