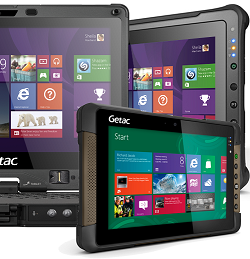 Rugged Tablets
Uw leverancier voor al uw rugged Android en Windows tablets? Dat is Fieldworks Direct B.V. natuurlijk. Bij ons vindt u dan ook uitsluitend hoogwaardige producten én profiteert u van uitstekende service. Het is ons doel om u te helpen aan een product dat perfect past bij uw werkzaamheden, wensen en behoeften. Heeft u een tablet nodig voor werkzaamheden in ruige omstandigheden, bijvoorbeeld bij defensie of in de bouw? Dan is één van onze rugged tablets wat u nodig heeft!
Waarom de rugged Android tablets?
Er zijn twee belangrijke verschillen tussen een robuuste (rugged) tablet pc en een robuuste (rugged) laptop. Eén, een robuuste tablet pc beschikt niet over een ingebouwd toetsenbord, maar heeft altijd de beschikking over een touchscreen display voor invoer en het bewegen van de cursor. En ten tweede, een robuuste tablet pc heeft geen ingebouwde media drive, zoals een cd-of dvd-station. Robuuste Tablet Pc's zijn lichtgewicht en ontworpen om gebruikt te kunnen worden in één hand. Robuuste tablets zijn dus makkelijker te gebruiken en te hanteren dan een robuuste laptop welke doorgaans ook meer ruimte vergen tijdens het gebruik.
Laat u persoonlijk adviseren
U kunt vrijblijvend een offerte aanvragen voor één of meerdere van onze rugged Android tablets via onze website. Wilt u zich echter eerst persoonlijk laten adviseren door één van onze deskundige medewerkers? Of heeft u andere vragen over onze producten? Neem dan even contact met ons op via +31 (0) 73 624 1111.