Standard InduSoft based WinPAC-5000

● Windows CE.NET 5.0
● Hard Real-Time Capability
● Fast Boot Speed
● PXA270 CPU (32-bit & 520 MHz)
● 128 MB SDRAM & 64 MB Flash
● Support VS.Net 2003/2005/2008 & eVC
● Audio with Microphone-In and Earphone-Out
● I/O Expansion Bus
● Support VGA (640x480 / 800x600)
● Support microSD Socket
● Dual 10/100M Ethernet Ports
● 3 Serial Ports (RS-232/485)
● Operating Temperature: -25 °C ~ +75 °C


The ICPDAS WinPAC WP-5449 is the new generation WinCE based InduSoft PAC (Programmable Automation Controller). It is equipped a PXA270 CPU (520 MHz) running a Windows CE.NET 5.0 operating system, various connectivity (VGA, USB, Ethernet, RS-232/485) and I/O expansion bus.
The ICPDAS WinPAC WP-5449 has many advantages, including hard real-time capability, small core size, fast boot speed, interrupt handling at a deeper level, achievable deterministic control and low cost. Using Windows CE.NET 5.0 gives it the ability to run PC-based control software such as Visual Basic.NET, Visual C#, Embedded Visual C++, SCADA software, SoftPLC …etc. It give users all of the best features of both traditional PLCs and Windows capable PCs.


APPLICATIONS: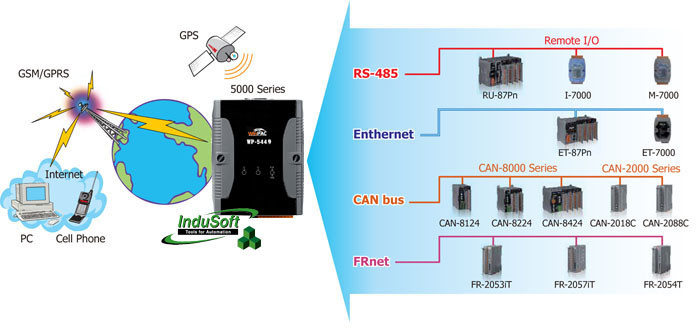 Software
| | |
| --- | --- |
| OS | Windows CE 5.0 |
| .Net Compact Framework | 2.0 |
| Embedded Service | FTP server, Web server (supports VB script, JAVA script), Embedded SQL server |
| InduSoft Software | InduSoft Web Studio v7.0 |
| Non-InduSoft | Options: Microsoft EVC++4.0 or VS.NET 2003/2005/2008 (VB.NET 2003/2005/2008, C#.NET 2003/2005/2008) |
Web Service
| | |
| --- | --- |
| Web HMI | Support Web HMI function, PC running Internet Explorer can access to the WP-8x49 via Local Ethernet or Internet or dial Modem, monitoring and control. |
| Security | Web HMI supports three levels user name and password protection |
Systeem
| | |
| --- | --- |
| CPU | PXA270 or compatible (32-bit and 520 MHz) |
| SDRAM | 128 MB |
| Flash | 64 MB (32 MB for OS, 32 MB for System_Disk and System Registry) |
| EEPROM | 16 KB Data Retention: 40 years; 1.000.000 erase/write cycles |
| Expansion Flash Memory | microSD socket with one 2 GB microSD card (support up to 16 GB microSDHC card) |
| RTC (Real Time Clock) | Provide second, minute, hour, date, day of week, month, year |
| 64-bit Hardware Serial Number | Yes |
| Dual Watchdog Timer | Yes |
| LED Indicators | 1 LED for Power and Running, 2 LED for user programmable |
| Rotary Switch | Yes (0 ~ 9) |
Communication Ports
VGA
Yes (640x480 / 800x600 resolution)
Ethernet

RJ-45 x2, 10/100 Base-TX
(Auto-negotiating, Auto MDI/MDI-X, LED indicators)

USB 1.1 (client)
1
USB 1.1 (host)
1
Audio Port
(Microphone-In and Earphone-Out)
Yes
COM1
RS-232 (RxD, TxD and GND); Non-isolated
COM2
RS-485 (D2+, D2-); 2500 VDC; isolated
COM3
RS-232 (RxD, TxD and GND); Non-isolated
I/O Expansion Bus
| | |
| --- | --- |
| I/O Expansion Bus | Yes, to mount one optional XW-board. |
Power
| | |
| --- | --- |
| Input Range | +10 ~ +30 VDC |
| Isolation | 1 kV |
| Consumption | 6 W (0.25 A @ 24 VDC) |
Mechanical
| | |
| --- | --- |
| Dimensions (w x l x h) | 91 x 132 x 52 mm |
| Installation | DIN-Rail Mounting |
Omgeving
| | |
| --- | --- |
| Operating Temperature | -25 °C ~ +75 °C |
| Storage Temperature | -30 °C ~ +80 °C |
| Humidity | 10 ~ 90% RH (non-condensing) |
U bent wellicht ook geïnteresseerd in de volgende producten: