CANopen / DCON Gateway

● NMT: Slave
● Error Control: Node Guarding protocol
● Node ID: Setting by CAN_GW utility
● PDO Modes: Event-triggered, remotely requested, cyclic and acyclic SYNC
● PDO Mapping: variable
● No of SDOs: 1 server, 0 client
● Emergency Message: Yes
● CANopen Version: DS-301 v4.02
● Device Profile: DSP-401 v2.0
● CAN Baud Rate setting by utility: 10K, 20K, 50K, 125K, 250K, 500K, 800K, 1M bps


DCON protocol is a kind of application protocol based on the RS-485 network. It is special for ICPDAS DCON I/O modules, such as I-7000 series and I-87K series modules. By way of using ICPDAS CAN Bus Gateway I-7231D to convert the electric signals and messages, the DCON I/O modules can be upgraded to the CANopen protocol based on the CAN bus.
For CANopen protocol application, theICPDAS CAN Bus Gateway I-7231D is a CANopen slave device. So, it can produce or consume the PDO messages, receive the SDO message with proper responses, and deal with the NMT messages from NMT master. For DCON protocol application, it is a DCON master device, and it will collect all of the I/O situations of the I-7000 and I-87K series modules connected with the RS-485 port of I-7231D.
Therefore, If the ICPDAS CAN Bus Gateway I-7231D receive the command from CAN bus, it does the corresponding reactions for DCON I/O channels. In addition, we also provide the utility tool for users to configure the device parameters and build EDS file for the CANopen slave device.
Therefore, users can easily apply I-7k and I-87K IO modules in any CANopen master interface with EDS file via the I-7231D.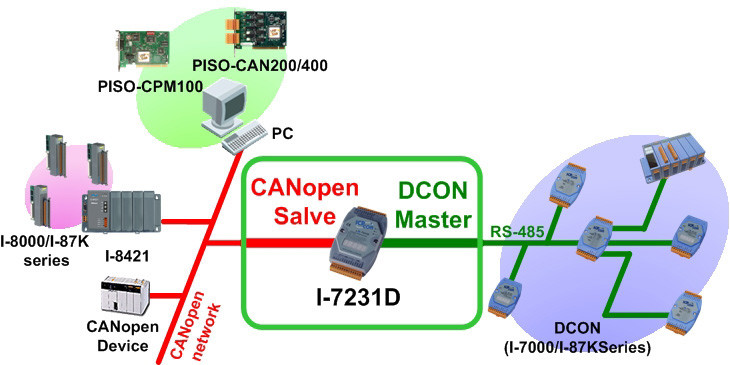 APPLICATIONS
● Industrial Machinery
● Building Automation
● Maritime
● Restaurant Appliances
● Distributed data acquisition
 UTILITY
● Support CANopen node ID, baud rate, and COM port parameters setting
● Auto-scan I-7k/I-87K modules connected with I-7231D COM Port
● Show I-7k/I-87K modules configuration
● Show Rx and Tx PDO objects configuration
● Support EDS file creation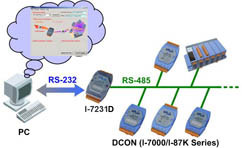 USAGE
The simple steps about how to use CPS_DCON gateway are described as follows:

Hardware
| | |
| --- | --- |
| CPU | 80188, 40 MHz or compatible |
| SRAM/Flash/EEPROM | 512 KB / 512 KB / 16 KB |
| Watchdog | Watchdog IC |
CAN Interface
| | |
| --- | --- |
| Controller | NXP SJA1000T with 16 MHz clock |
| Transceiver | NXP 82C250 |
| Connector | 5-pin screwed terminal block (CAN_L, CAN_SHLD, CAN_H, N/A for others) |
| Isolation | 1000V DC for DC-to-DC, 2500Vrms for photo-couple |
| Terminator Resistor | Jumper for 120 Ω terminator resistor |
| Protocol | CANopen DS-301 v4.02, DS-401 v2.1 |
UART Interface
| | |
| --- | --- |
| COM1 | RS-232 (For configuration) |
| COM2 | RS-485 (Self-turner inside) |
| Transmission Distance | Depend on baud rate (for example, max. 1200 m at 9.6 kbps ) |
| Baud Rate (bps) | 1200, 2400, 4800, 9600, 19200, 38400, 57600, 115200 |
| Protocol | DCON |
LED Indicators
| | |
| --- | --- |
| Round LED | MS LED, NS LED, IO LED |
| 5-digit 7 Segment | Yes |
Power
| | |
| --- | --- |
| Power supply | Unregulated +10 ~ +30 VDC |
| Protection | Power reverse polarity protection, Overvoltage brownout protection |
| Power Consumption | 3W |
Mechanical
| | |
| --- | --- |
| Dimensions (w x l x h) | 72 x 33 x 122mm |
Omgeving
| | |
| --- | --- |
| Operating Temperature | -25 °C ~ 75 °C |
| Storage Temperature | -40 °C ~ 80 °C |
| Humidity | 5 ~ 95% RH, non-condensing |
U bent wellicht ook geïnteresseerd in de volgende producten: