The GETAC F110 is a true revolution in rugged tablet computing.
Published at 2014-02-04 11:32:17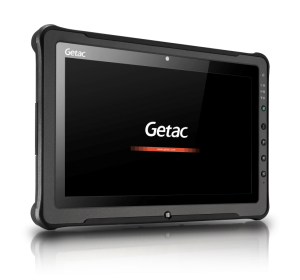 WHERE PERFORMANCE & MOBILITY COLLIDE. The F110 is a true revolution in rugged tablet computing. The F110 combines powerful 4th gen Intel Core Processors, the latest wireless and a large 11.6 inch widescreen display with a thin and light design that re-defines rugged mobility.
The GETAC F110 is a large-screen rugged tablet that packs superior performance and a large 11.6 inch display in a compact design. The F110 is less than 1 inch thick and just more than 30 x 20 cm in size. At 1.39 kg, this rugged tablet is the lightest large-screen, fully rugged tablet ever built.

"With the compact, lightweight design of the new and F110 tablet, we've changed the rugged industry from devices that were simply portable to devices that are truly mobile," explains Jim Rimay, president, Getac. "You can see the influences from our customers' feedback in the weight, the dual battery design, the large 11.6 inch screen combined with the incredible performance of the latest fourth generation Intel Core processors."

The F110 incorporate the latest fourth generation Intel Core i5-4300U (1.9GHz) or i7-4600U (2.1GHz) processors, known as the Haswell platform and designed for speed and efficiency. The i5 and i7 CPUs feature Intel Turbo Boost Technology clocking maximum speeds up to 2.9GHz and 3.3GHz, respectively. In addition, the new Intel HD 4400 graphics provides an unparalleled level of responsiveness and frame rate for both 2D and 3D graphics.

One of the most useful features is also one of the simplest. The F110 feature dual hot-swappable batteries that allow for endless power by simply "swapping" in a fresh battery without needing to shut down applications or the operating system. The F110 battery set provides up to 12 hours of operation.

The F110 feature removable flash-based storage based on the Next Generation Form Factor, allowing customers with sensitive data to retain their storage as the computer changes hands. The F110 has a removable door on the back of the tablet to access the storage module that is 78% smaller and lighter than previous removable rugged storage solutions.

Access to remote data is critical to many Getac customers whose jobs are in the field. The F110 can be ordered with built-in multi-carrier 4G LTE on a single chip; large, enterprise customers can purchase a single 4G LTE configuration and choose which carrier is best based upon region or preference.* This Model supports the next generation 802.11ac WiFi. When connected to an 802.11ac router, the computers can deliver wireless performance that is up to three times faster. Additionally, new Bluetooth 4.0 technology boosts performance in the field. A brand-new 3-D antenna design captures eight bands, improving both signal strength and throughput while reducing drop offs. And, for vehicle deployments, three pass-through antenna ports can be added, allowing customers to simultaneously connect high-gain GPS, WWAN and WLAN roof-mounted antennae.

The revolutionary LumiBond™ technology creates a display that is more readable and offers better contrast and more crisp colors than any other rugged tablet display. By bonding the display glass with the touch panel and LCD, Getac has created a single pane that is more durable, improves readability, and provides a viewing angle up to 178 degrees.
---