GETAC brengt de Next Generation fully rugged tablet en convertible notebook uit.
Published at 2015-05-01 12:51:44

De ultra robuuste F110-G2 en V110-G2 zijn de eerste Getac apparaten die zullen worden uitgerust met Intel's ® vijfde generatie Broadwell technologie.
Deze nieuwe rekenkracht, verbonden met het handelsmerk "robuuste bouw" van Getac, zullen de eenheden in staat stellen om uitzonderlijke computing-prestaties te leveren in de zwaarste werkomgevingen.
De nieuwe processor heeft ook een efficiënter gebruik van energie en een verbetering van de batterij levensduur in het veld.

Getac, zegt dat de F110-G2 en V110-G2 de volgende generaties zijn in robuuste mobiele apparaten en bevestigt de inzet van Getac voor het leveren van de nieuwste technologie voor diegenen die kracht en prestaties eisen in kritieke omstandigheden.

Intel's vijfde generatie processor technologie zorgt voor een betere productiviteit, dat is een belangrijke functie bij de klanten als het gaat om het selecteren van mobiele apparaten - 78 procent van de respondenten in de Rugged Mobile Technology Report Enterprise Mobility Exchange (maart 2015) zeiden dat het een kritische factor is in hun apparaat inkoopproces.

Beide apparaten beschikken over 11,6 "high-definition schermen met Lumibond® 2.0, de nieuwste versie van Getac's gepatenteerde technologie voor zichtbaarheid in fel zonlicht met een unieke screen-bonding proces.
Dit maakt touchscreen gebruik in de regen, of met handschoenen, of met een stylus - apparaten perfect voor outdoor activiteiten.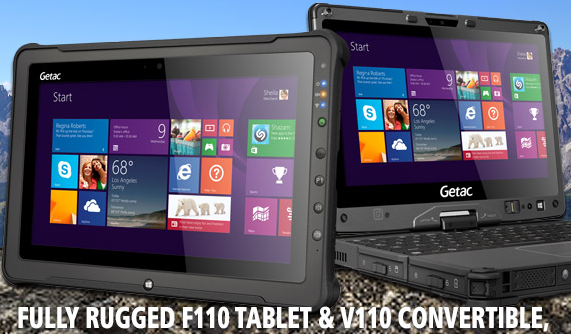 Belangrijkste kenmerken: V110-G2 Convertible Notebook

• Intel® Broadwell fifth-generation processor – Intel® Core i5-5200U (2.2GHz) or i7-5500U (2.4GHz) with Turbo Boost Technology
• Fully rugged MIL-STD 810G IP65, ANSI certified
• Windows 7 or 8.1 Pro
• 4GB RAM expandable to 8GB
• Dimensions: 29.9cm x 22.3cm x 3.4cm; 11.6" screen (1366x768)
• Battery life: up to 12 hours, battery swappable technology
• Weight: 1.98kg
• Temperatures: operating -21°C to 60°C; storage -40°C to 71°C
• Intel® Dual Band Wireless 802.11ac
• 4G/LTE modem
• Capacitive multi-touch screen
• LED backlit membrane keyboard


Belangrijkste kenmerken: F110-G2 Tablet

• Intel® Broadwell fifth-generation processor – Intel® Core i5-5200U (2.2GHz) or i7-5500U (2.4GHz) met Turbo Boost Technology
• Fully rugged MIL-STD 810G IP65, ANSI certified
• Windows 7 or 8.1 Pro
• 4GB RAM expandable to 8GB
• Dimensions: 31.4cm x 20.7cm x 2.45cm; 11.6" screen (1366x768)
• Battery life: up to 13 hours, battery swappable technology
• Weight 1.39kg
• Temperatures: operating -21°C to 60°C; storage -40°C to 71°C
• Intel® Dual Band Wireless 802.11ac
• 4G/LTE modem
• Capacitive multi-touch screen
---