Durabook U11i G2 - Volledig Robuuste Tablet
Levertijd:
Uit voorraad leverbaar
● Intel® Core™ i5-10210Y Processor (i7 optioneel)
● 11.6" Full HD Display
● 1000 Nits Zonlicht Afleesbaar Gebonden Display
● Multi Touch of Dual Mode Touch (met Digitizer Pen)
● Exclusieve aanraaktechnologie (regen/handschoen/pen)
● Intel® Dual Band Wireless AC 9260
● Bluetooth® V5.0
● Beschikbaar met geïntegreerde 4G LTE
● Beschikbaar met afzonderlijke GPS 
● 8MP Camera met LED Flash
● RS232 of Barcode Scanner optie
● Windows 10 Pro x64
● Lichtgewicht 1.39 kg
● Uitneembare SSD module
● Fanloos ontwerp
● IP65 stof en water beschermd
● Mil-STD810G schok, val (180cm) en trilling certificering


EXTREMELY BRILLANT FULLY RUGGED TABLET
U11i G2 Tablet

Built for All.

All in One.
Choosing between mutually exclusive I/O interfaces and devices is a thing of the past. The Durabook U11i G2 has it all. Within its extremely compact and rugged exterior, the U11i G2 packs an unprecedented number of productivity features and generous space for further expansion.
SUPERB PERFORMANCE BUILT IN

Running on Intel® 10th Generation CPUs and featuring a unique fanless design, the U11I provides the perfect blend of functionality, performance and reliability. Plus, the high-speed data transmission capability of Intel® Dual Band Wireless AC 9260 and Bluetooth® V5.0 means smooth, congestion-free data processing at all times. For field operatives everywhere, the next generation of rugged mobile solutions has arrived.
QUICK-RELEASE SSD

The U11I features an SSD that's quick and easy to remove – without having to open any covers – saving you time and effort.
The easy removable SSD is available with SATA interface or with PCIe as a second option.
DETAIL AT A GLANCE

The U11i G2 sports an 11.6″ Full HD (1920 x 1080) LCD featuring Durabook's proprietary DynaVue® sunlight readable technology for exceptional viewing of detail even in direct sunlight. DynaVue® also features 1,000-nit brightness for enhanced viewing clarity. The 10-point capacitive multi-touch panel has four Touch Modes (Glove, Stylus, Water, Finger), optimizing use of the device for both indoor and outdoor applications.
LONG-LIFE, HOT-SWAP BATTERY

The U11i G2 is compact yet delivers power and functionality without sacrifice. Equipped with its high-capacity battery you can take advantage of non-stop operation up to 24 hours with a single battery, making the U11i G2 the market leader on power supply.
Its hot-swappable battery enables workers in the field to operate without interruption when charging isn't possible.
ROCK-SOLID AND QUIET

The U11I is especially resilient to accidental drops thanks to the enhanced protection of rubber frame protectors on all sides. This tablet is MIL-STD-810G certified, ANSI 12.12.01 C1D2 certified, and IP65 rated, assuring shock, 6-foot drop and vibration protection, as well as the ability to withstand use in a wide range of temperatures. What's more, the unique, fanless design with 0 dBA means the U11I operates dependably and quietly.
ENDLESS EXPANSION OPTIONS

U11I can easily be expanded to add functionality or another layer of security via RFID reader, ExpressCard54, or PCMCIA Type II. The U11I comes optional with an embedded smart card reader and is the only rugged tablet available today with the option of adding a second smart card reader via built in expansion module, which is useful for remote workers or those collecting and transferring sensitive data and information.
Durabook U11i G2 TABLET ANATOMY
Front side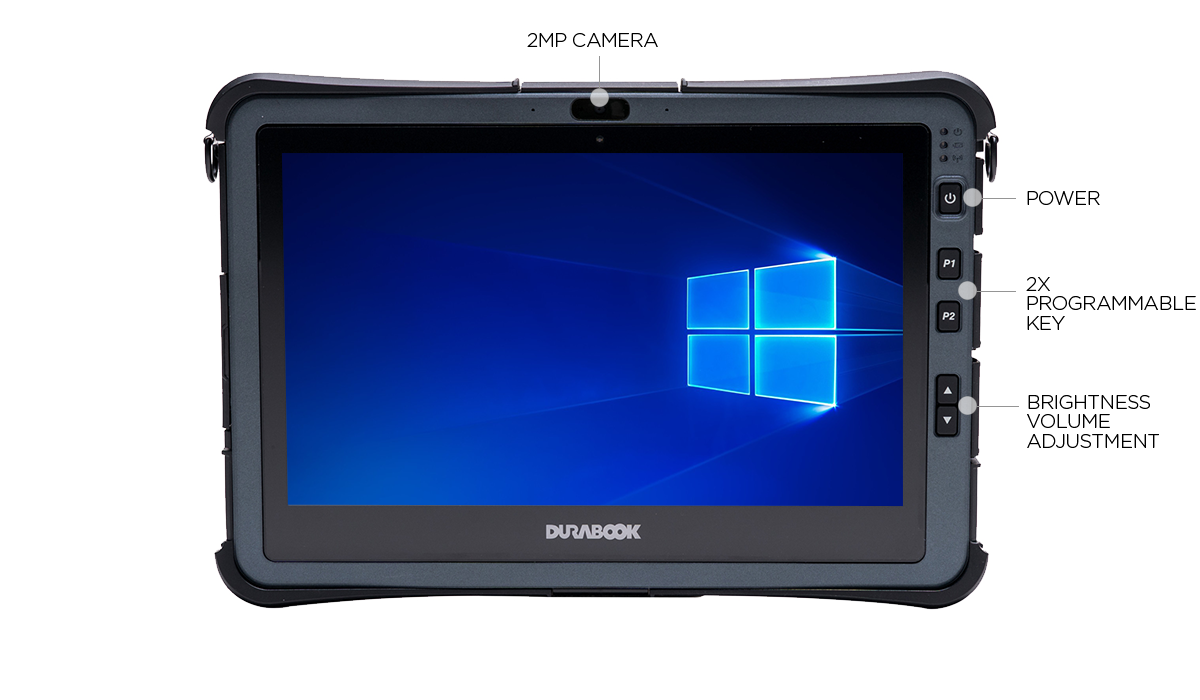 Rear side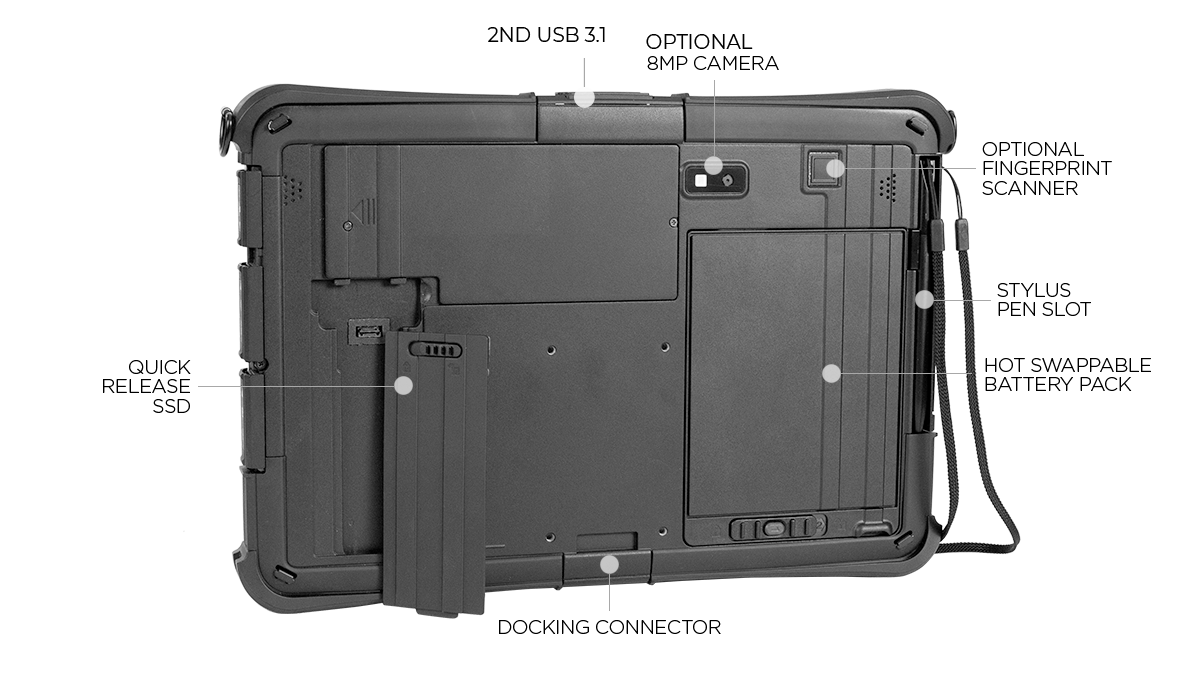 Right side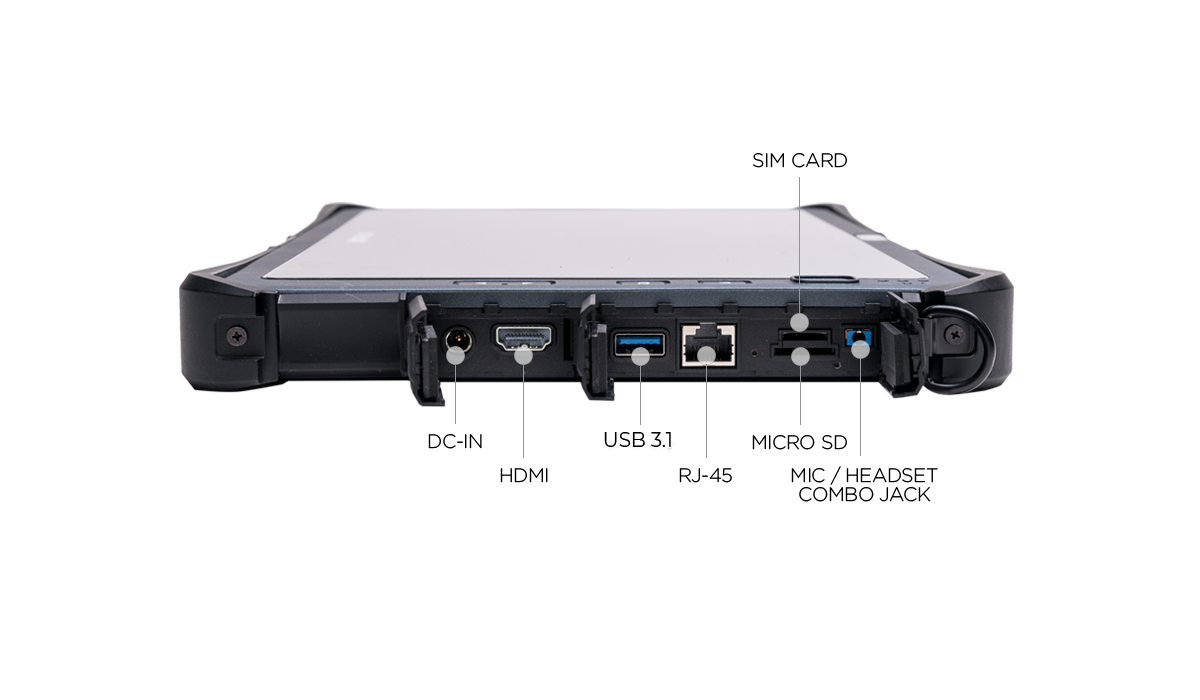 Left side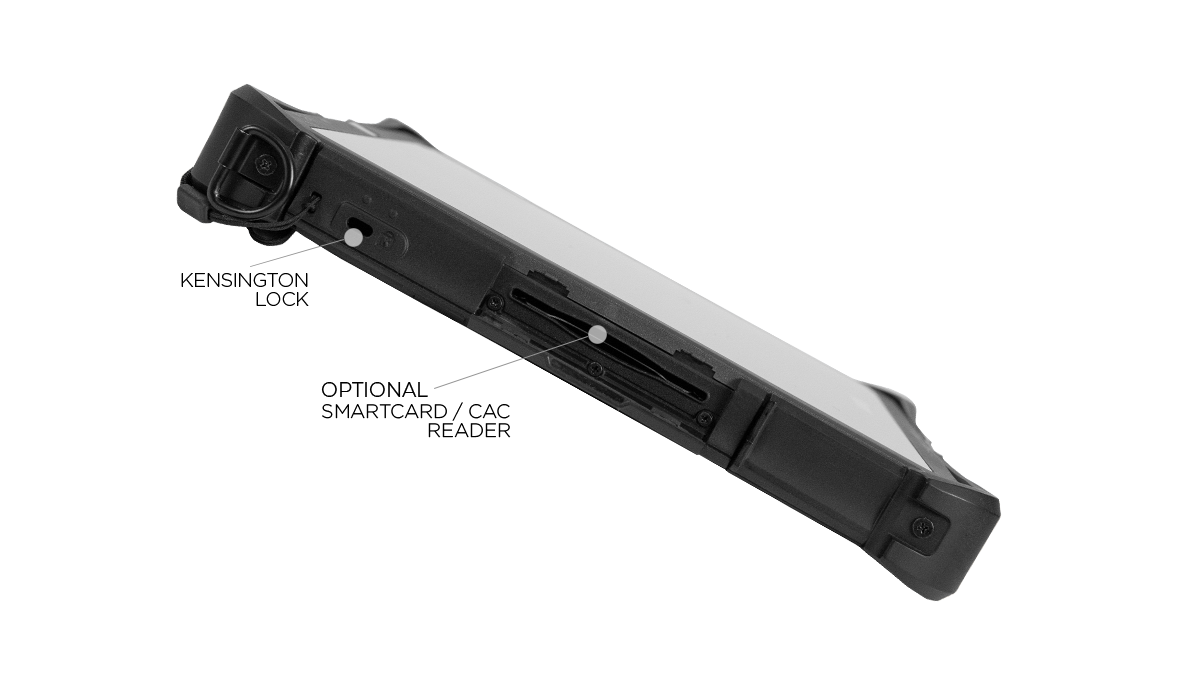 Operating System
Windows 10 Professional

Rugged Features
| | |
| --- | --- |
| ■ MIL-STD 810G | Altitude-Storage |
| | Method 500.6, Procedure I, 40000 ft |
| | Altitude-Operating |
| | Method 500.6, Procedure II, 40000 ft |
| | High Temperature-Storage |
| | Method 501.6, Procedure I, 33°C ~ 71°C |
| | High Temperature-Operating |
| | Method 501.6, Procedure II, 60°C |
| | Low Temperature-Storage |
| | Method 502.6, Procedure I, - 46°C |
| | Low Temperature-Operating |
| | Method 502.6, Procedure II, - 37°C (AC mode) |
| | Temperature Shock |
| | Method 503.6, Procedure I, from - 40°C ~ 71°C, 3 cycles |
| | Rain-Blowing Rain ; Rain Drip |
| | Method 506.6, Procedure I, total 6 surfaces; |
| | Method 506.6, Procedure III |
| | Humidity-Operating |
| | Method 507.6, Procedure I, relative humidity of 95%, |
| | Cycel B1, Induced 90 days + Natural 45 days |
| | Blowing Dust |
| | Method 510.6, Procedure I, 60°C |
| | Blowing Sand |
| | Method 510.6, Procedure II, 60°C |
| | Explosive Atmosphere |
| | Method 511.6, Procedure I, 60°C |
| | Vibration-General Vibration Operating |
| | Method 514.7, Procedure I, Category 24, Fig. 514.7E-1 |
| | Functional Shock |
| | Method 516.7, Procedure I, 40G, 11ms |
| | Method 516.7, Procedure V, 75G, 6ms |
| | Transit Drop |
| | Method 516.7, Procedure IV, 26 drops from 72 inch |
| | height onto 2 inch plywood |
| | Freeze/Thaw |
| | Method 524.1, Procedure III |
| ■ Water Sealing | IEC 60529 IP-X5 |
| ■ Dust Proof | IEC 60529 IP-6X |
| ■ MIL-STD 461G | Meet MIL-STD-461G: CE102, RE102, CS101, CS114, CS115, CS116, RS103 |
| ■ ANSI/ISA 12.12.01(C1D2) | |
CPU
Intel® Core™ i5-10210Y (10th Gen) 1.0GHz processor with Turbo Boost Technology up to 4.0GHz, 6MB cache
Optional:
Intel® Core™ i5-10310Y vPro™ (10th Gen) 1.1GHz processor with Turbo Boost Technology up to 4.1GHz, 6MB cache
Intel® Core™ i7-10510Y vPro™ (10th Gen) 1.2GHz processor with Turbo Boost Technology up to 4.5GHz, 8MB cache


Memory
1 x 8GB RAM
Optional: 1 x 16GB RAM
Scherm
11.6" Full HD (1920 x 1080)
Capacitive Multi-Touch
Exclusive touch technology work with latex glove and even wet environment
Optional Optical Bonding Sunlight readable LCD 1000 nits
Optional Dual Mode Touch (Multi-Touch + Digitizer)
Build-in Ambient Light Sensor
X Bay
Optional One Expansion Slot for PCMCIA type II or ExpressCard 54 or Contactless SmartCard CAC Reader

Pointing Device
Capacitive Multi-Touch
Dual Mode (Multi Touch Screen + Digitizer) optional
Expansion Slots
Optional One Expansion Slot for PCMCIA type II or ExpressCard 54 or Contactless SmartCard CAC Reader

Smart Card Reader
Optional expansion module for Magnetic Stripe Reader with Smart Card Reader
I/O Ports
1 x USB 3.1
2nd option port: 1 x USB 3.1 (Optional 1 x RS232 Port or 1D/2D Barcode Scanner
1 x 3.5mm combo jack for Mic/Headset
1 x SIM card slot for WWAN data communication (optional)
1 x Gigabit LAN Port
1 x HDMI Port
1 x Docking Connector
3 x RF pass-through connectors for WLAN, WWAN & GPS (optional)
Communication Interface
Integrated 4G/LTE WWAN (Optional)
Dedicated GPS (Optional)
WLAN: Intel Wireless AC 9260 802.11 a/b/g/n/AC
Bluetooth: v5.0
Beveiliging
Kensington Lock
TPM 2.0
Smart Card Reader
Easy Removable SSD
Stealth Mode / Night Vision Mode
RFID Reader (optional)
Intel® vPro™ Technology (optional)
Fingerprint Scanner (optional)
Power
AC adapter : 100-240V, 50Hz-60Hz, 65W
Removable Main battery Li-Ion, 7.6V, 4800mAh, 13.5 hours
Optional removable long life battery Li-Ion, 7.6V, 9600mAh, 24 hours
Optional bridge battery : 5 minutes swap time
Dimensions & Weight
317mm x 215 mm x 24 mm
Weight: 1.39 kg (weight may vary depending on configuration)
Environmental Spec
| | |
| --- | --- |
| ■ MIL-STD 810G | Altitude-Storage |
| | Method 500.6, Procedure I, 40000 ft |
| | Altitude-Operating |
| | Method 500.6, Procedure II, 40000 ft |
| | High Temperature-Storage |
| | Method 501.6, Procedure I, 33°C ~ 71°C |
| | High Temperature-Operating |
| | Method 501.6, Procedure II, 60°C |
| | Low Temperature-Storage |
| | Method 502.6, Procedure I, - 46°C |
| | Low Temperature-Operating |
| | Method 502.6, Procedure II, - 37°C (AC mode) |
| | Temperature Shock |
| | Method 503.6, Procedure I, from - 40°C ~ 71°C, 3 cycles |
| | Rain-Blowing Rain ; Rain Drip |
| | Method 506.6, Procedure I, total 6 surfaces; |
| | Method 506.6, Procedure III |
| | Humidity-Operating |
| | Method 507.6, Procedure I, relative humidity of 95%, |
| | Cycel B1, Induced 90 days + Natural 45 days |
| | Blowing Dust |
| | Method 510.6, Procedure I, 60°C |
| | Blowing Sand |
| | Method 510.6, Procedure II, 60°C |
| | Explosive Atmosphere |
| | Method 511.6, Procedure I, 60°C |
| | Vibration-General Vibration Operating |
| | Method 514.7, Procedure I, Category 24, Fig. 514.7E-1 |
| | Functional Shock |
| | Method 516.7, Procedure I, 40G, 11ms |
| | Method 516.7, Procedure V, 75G, 6ms |
| | Transit Drop |
| | Method 516.7, Procedure IV, 26 drops from 72 inch |
| | height onto 2 inch plywood |
| | Freeze/Thaw |
| | Method 524.1, Procedure III |
| ■ Water Sealing | IEC 60529 IP-X5 |
| ■ Dust Proof | IEC 60529 IP-6X |
| ■ MIL-STD 461G | Meet MIL-STD-461G: CE102, RE102, CS101, CS114, CS115, CS116, RS103 |
| ■ ANSI/ISA 12.12.01(C1D2) | |