2-axis Stepping/Servo Motor Control Card

● Parallel I/O Module
● 2-axis independent, simultaneous stepping motor control/servo motor control (pulse input type)
● Maximum pulse rate: 1 Mpps
● Maximum step counts: 232 -1 steps
● DOS driver
● Embedded CPU
● Command type interface
● 2-axis linear, 2-axis circular interpolation
● Automatic trapezoidal acceleration/deceleration
● Output pulse modes: CW/CCW or pulse/direction
With different communication interface, the I/O modules can be classified to high communication speed (Parallel bus) 8K series modules and low communication speed (serial interface) 87K series modules.
There are two types of I/O modules, Parallel and Serial. The parallel modules (I-8 Series) are high-speed modules and support MCU (Main Control Unit) only.
Item
I-87K Series
Communication Interface
Parallel Bus

Protocol
-

Communication Speed
Fast

DI with Latched Function
-

DI with Counter Input
-

Power On Value
-

Safe Value
-

Programmable Slew-rate for AO Module
-

High Profile VS Low Profile
With different form factor, I/O modules can be classified to high profile and low profile. Basically, high profile and low profile modules that with same item number also have same I/O channel number.
For example: I-8054 and I-8054W both has 8 DI and 8 DO.
Except I/O channel number, other specifications could be different. You have to double check whether the specifications suit your application.
For example: For I-8054W, its DI logic high level is +10 ~ +50V. But for I-8054, it is +3.5 ~ +30V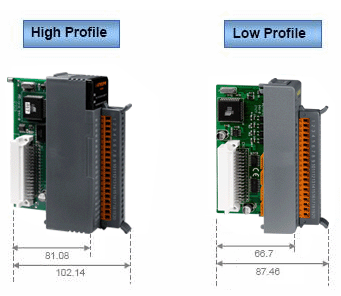 Hardware
Parallel I/O Module
2-axis independent, simultaneous stepping motor control/servo motor control (pulse input type)
Maximum pulse rate: 1 Mpps
Maximum step counts: 232 -1 steps
DOS driver
Embedded CPU
Command type interface
2-axis linear, 2-axis circular interpolation
Automatic trapezoidal acceleration/deceleration
Output pulse modes: CW/CCW or pulse/direction
Output polarity can be programmable
2500 Vrms optical isolated signal output
3 optical isolated digital inputs per axis for limit switches
programmable limit switch initial condition as normal open (N.O.) or normal close (N.C.)