16-channel Digital I/O Simulator Module

● Parallel I/O Module
● Digital Input Channels: 8
● Input type : Toggle switch
● Digital Output Channels: 8
● Output type : Programmable
● LED indicator for each channel of D/I or D/O
● Power Consumption: 0. 3 W


The I-8077 Digital Input/Output Simulator Module are designed to be an aid to program development. Use the ICPDAS Digital I/O Module I-8077 to simulator real world inputs/outputs during your design and debug process. The I-8077 enables the program development to cause a change in input/output status at will to simulate a system active. And you can monitor status of Digital input/output on the Led. When it becomes time to move to real hardware or control program, replace the ICPDAS Digital I/O Module I-8077 with the appropriate digital input/output module. The logic of your program will remain the same.
With different communication interface, the I/O modules can be classified to high communication speed (Parallel bus) 8K series modules and low communication speed (serial interface) 87K series modules.
There are two types of I/O modules, Parallel and Serial. The parallel modules (I-8 Series) are high-speed modules and support MCU (Main Control Unit) only.
Item
I-87K Series
Communication Interface
Parallel Bus

Protocol
-

Communication Speed
Fast

DI with Latched Function
-

DI with Counter Input
-

Power On Value
-

Safe Value
-

Programmable Slew-rate for AO Module
-

High Profile VS Low Profile
With different form factor, I/O modules can be classified to high profile and low profile. Basically, high profile and low profile modules that with same item number also have same I/O channel number.
For example: I-8054 and I-8054W both has 8 DI and 8 DO.
Except I/O channel number, other specifications could be different. You have to double check whether the specifications suit your application.
For example: For I-8054W, its DI logic high level is +10 ~ +50V. But for I-8054, it is +3.5 ~ +30V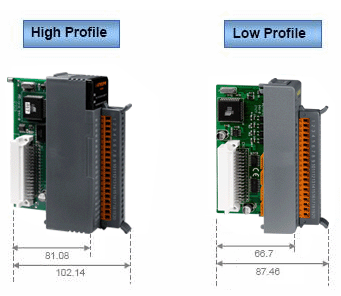 Digital Input
| | |
| --- | --- |
| Digital Input Channels | 8 |
| Input Type | Toggle Switch |
Digital Output
| | |
| --- | --- |
| Digital Output Channels | 8 |
| Input Type | Programmable |
LED Indicators
| | |
| --- | --- |
| LED Indicator | For each channel of D/I or D/O |
Mechanical
| | |
| --- | --- |
| Dimensions (w x l x h) | 30 x 88 x 115 mm |
Omgeving
| | |
| --- | --- |
| Operating Temperature | -25 °C ~ +75 °C |
| Storage Temperature | -30 °C ~ +75 °C |
| Humidity | 5 ~ 95%, Non-condensing |
U bent wellicht ook geïnteresseerd in de volgende producten: