DeviceNet / Modbus RTU Gateway

● DeviceNet Version: Volume I & II, Release 2.0
● Group 2 Only Server DeviceNet subscriber
● Dynamic Assembly Objects Mapping
● On-line change baud rate and MAC ID of CAN
● NS, MS and IO LED indicators
● 7-segmemt LED to show operation mode, MAC ID, baud rate and error code
● Configuration facilitated by the use of specific EDS files
● I/O operating modes: Polling, Bit-Strobe, Change of State/Cyclic
● Maximum number of subscribers: 10 Modbus slaves
● Communication speed: 1200,2400,4800,9600,19200,38400,57600 or 115200 bits/s, configured using Utility
● Data bits: 8 bits, configured using Utility
● Parity bits: None, even or odd, configured using Utility
● Stop bits: 1 or 2 bits, configured using Utility


The I-7242D is one of CAN bus products in ICP DAS. The device allows a master located on a DeviceNet network to enter into a dialogue with the slaves on a Modbus RTU network in DeviceNet network, it is a Group 2 Only Slave device, and supports "Predefined Master/Slave Connection Set".
It is a general protocol converter operating in a way that is transparent to the user. In addition, we also provide the utility software for users to configure the I-7242D's parameters and build the EDS file.
Users can easily apply Modbus RTU devices in DeviceNet applications with the ICPDAS CAN Bus Gateway I-7242D.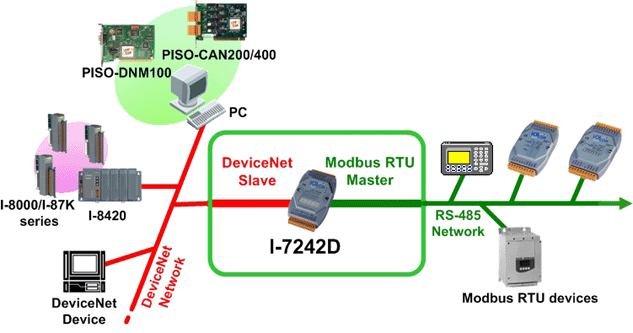 APPLICATIONS:

● Control System
● Building Automation
● Factory Automation
● Distributed Data Acquisition

UTILITY:

The I-7242D Utility helps users to configure the devices. It has the following features:

● Support DeviceNet node ID, baud rate setting
● Support Modbus RTU parameters setting
● Show Modbus RTU devices configuration
● Show DeviceNet application and assembly objects configuration
● Support DeviceNet Polling, Bit-Strobe and COS/Cyclic Produced and Consumed connection path setting
● Dynamic produce EDS file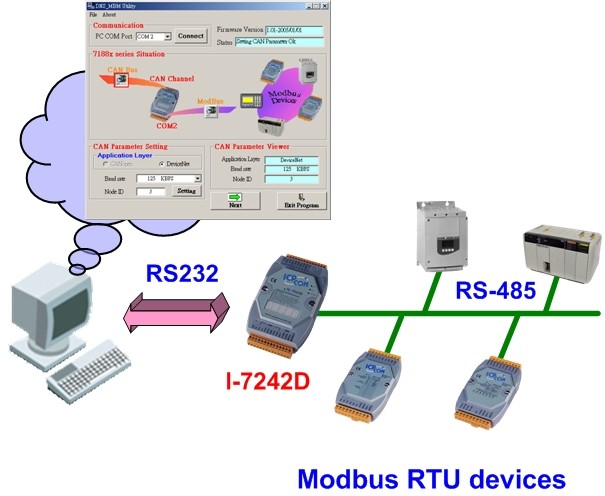 USAGE:

The simple steps about how to use DNS_MRU gateway are described as follows:



Hardware
| | |
| --- | --- |
| CPU | 80188, 40 MHz or compatible |
| SRAM/Flash/EEPROM | 512 KB / 512 KB / 16 KB |
| Watchdog | Watchdog IC |
CAN Interface
| | |
| --- | --- |
| Controller | NXP SJA1000T with 16 MHz clock |
| Transceiver | NXP 82C250 |
| Connector | 5-pin screwed terminal block (CAN_L, CAN_SHLD, CAN_H, N/A for others) |
| Isolation | 1000 VDC for DC-to-DC, 2500Vrms for photo-couple |
| Protocol | DeviceNet Volume I v2.0, Volume II v2.0 |
UART Interface
| | |
| --- | --- |
| COM 1 | RS-232 (For configuration) |
| COM 2 | RS-485 (Self-turner inside) |
| Baud Rate (bps) | 1200, 2400, 4800, 9600, 19200, 38400, 57600, 115200 |
| Data bit | 7, 8 |
| Stop bit | 1, 2 |
| Parity | None, Even, Odd |
| Protocol | Modbus RTU |
LED Indicators
| | |
| --- | --- |
| Round LED | MS LED, NS LED, IO LED |
| 5-digit 7 Segment | Yes |
Power
| | |
| --- | --- |
| Power supply | Unregulated +10 ~ +30 VDC |
| Protection | Power reverse polarity protection, Overvoltage brown-out protection |
| Power Consumption | 3 W |
Mechanical
| | |
| --- | --- |
| Dimensions (w x l x h) | 72 x 33 x 122mm |
Omgeving
| | |
| --- | --- |
| Operating Temperature | -25 °C ~ 75 °C |
| Storage Temperature | -40 °C ~ 80 °C |
| Humidity | 5 ~ 95% RH, non-condensing |
U bent wellicht ook geïnteresseerd in de volgende producten: