DeviceNet Slave / DCON Master Gateway

● NMT: Slave
● Support Predefined Master/slave Connection Set
● Dynamic Assembly Objects Mapping
● Support Offline Connection Set, Device Heartbeat message and Device Shutdown message
● Provide Assembly object
● Dynamic Product EDS File
● I/O operating modes: Polling, Bit-Strobe, Change of State/Cyclic
● Support max 15 I-7K/I-87K IO modules
● Provide friendly Utility to configure
● Baud Rate: 125 Kb, 250 Kb, 500 Kb
● On-line change baud rate and MAC ID of CAN
● 7-segmemt LED to show operation mode, MAC ID, baud rate and error code


The ICPDAS  I-7241D is one of CAN bus products in ICP DAS. The device offers the communication gateway between DeviceNet and DCON protocol. DCON protocol is the communication protocol of I-7K and I-87K series IO modules of ICP DAS.
And the I-7241D can be a DeviceNet slave device in CAN bus for DeviceNet network. It is a Group 2 Only Slave device, and supports "Predefined Master/slave Connection Set". In addition, we also provide the utility software for users to configure the device parameters and build EDS file for the DeviceNet slave device.
Users can easily apply I-7k and I-87K IO modules in DeviceNet applications with the ICPDAS CAN Bus Gateway I-7241D.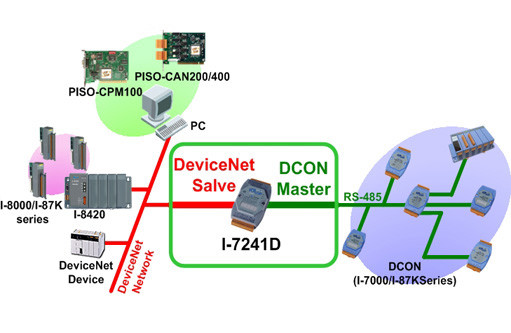 APPLICATIONS:
● Control System
● Building Automation
● Factory Automation
● Distributed data acquisition

UTILITY:
● Support auto-scan I-7K/I-87K modules
● Auto-scan I-7k/I-87K modules connected with I-7241D COM Port
● Show I-7k/I-87K modules configuration
● Show Application and Assembly Objects configuration
● Support IO connection path setting
● Support EDS file creating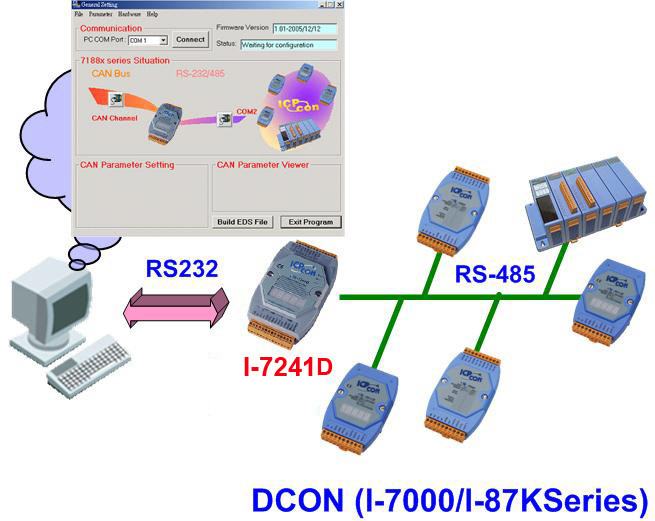 USAGE:



Hardware
| | |
| --- | --- |
| CPU | 80188, 40 MHz or compatible |
| SRAM/Flash/EEPROM | 512 KB / 512 KB / 16 KB |
| Watchdog | Watchdog IC |
CAN Interface
| | |
| --- | --- |
| Controller | NXP SJA1000T with 16 MHz clock |
| Transceiver | NXP 82C250 |
| Connector | 5-pin screwed terminal block (CAN_L, CAN_SHLD, CAN_H, N/A for others) |
| Isolation | 1000 VDC for DC-to-DC, 2500Vrms for photo-couple |
| Terminator Resistor | Jumper for 120 Ω terminator resistor |
| Protocol | DeviceNet Volume I v2.0, Volume II v2.0 |
UART Interface
| | |
| --- | --- |
| COM 1 | RS-232 (For configuration) |
| COM 2 | RS-485 (Self-turner inside) |
| Transmission Distance | Depend on baud rate (for example, max. 1200 m at 9.6 kbps ) |
| Baud Rate (bps) | 1200, 2400, 4800, 9600, 19200, 38400, 57600, 115200 |
| Protocol | DCON |
LED Indicators
| | |
| --- | --- |
| Round LED | MS LED, NS LED, IO LED |
| 5-digit 7 Segment | Yes |
Power
| | |
| --- | --- |
| Power supply | Unregulated +10 ~ +30 VDC |
| Protection | Power reverse polarity protection, Overvoltage brownout protection |
| Power Consumption | 3W |
Mechanical
| | |
| --- | --- |
| Dimensions (w x l x h) | 72 x 33 x 122mm |
Omgeving
| | |
| --- | --- |
| Operating Temperature | -25 °C ~ 75 °C |
| Storage Temperature | -40 °C ~ 80 °C |
| Humidity | 5 ~ 95% RH, non-condensing |
U bent wellicht ook geïnteresseerd in de volgende producten: